Kentucky Ag Literacy Week in Lincoln County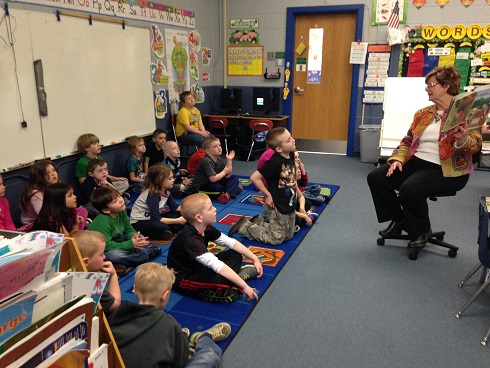 March 15-21, 2015, was Kentucky Ag Literacy week. To celebrate, members of the Lincoln County Farm Bureau Women's Committee went to each of the elementary schools and read to a class from Kindergarten to 2nd grade. The book they read was called "The Apple Orchard Riddle" by Margaret McNamara and illustrated by G. Brian Karnes. Each committee member did an activity with the class. At Waynesburg Elementary, students were given slices of red, yellow, and green apples to taste. They were then asked to stand at a spot in the room that showed which apple they liked best. They talked about how people are different, just like apples are different. An apple was cut to show them the star in the middle. They were reminded of the riddle to share with their parents. The book and educator's guide was donated to the school.
KFB Spotlight
April 23, 2019

Having grown up working on my grandparent's farm, I learned at an early age an appreciation of the farming way of life. I was taught the value agriculture holds for my family and the world around me.
A Look at Agriculture Outside the US: Seeing Argentina agriculture gives Kentucky farmers a new appreciation here, at home

April 5, 2019

Sometimes, the best way to see more clearly, and perhaps appreciate more, a specific issue that is close to home, is to observe if from a different perspective, in a different place.
April 4, 2019

Since the end of last December, several head of a beef cattle herd on the David and Mollie Appelman / ATM Farm, were kept in a compost bedded pack barn throughout the winter months, rather than out in the wet winter weather. The idea led to dryer feeding conditions, less water/waste run-off, easier working conditions, and happier cows.