Kentucky Ag Literacy Week in Lincoln County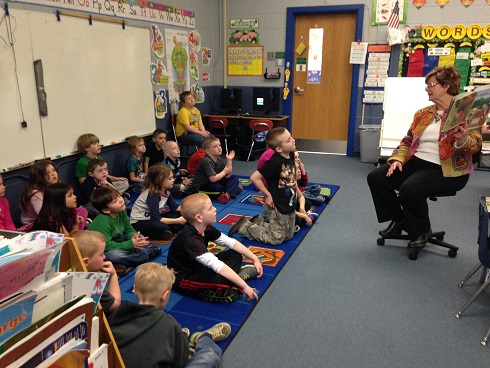 March 15-21, 2015, was Kentucky Ag Literacy week. To celebrate, members of the Lincoln County Farm Bureau Women's Committee went to each of the elementary schools and read to a class from Kindergarten to 2nd grade. The book they read was called "The Apple Orchard Riddle" by Margaret McNamara and illustrated by G. Brian Karnes. Each committee member did an activity with the class. At Waynesburg Elementary, students were given slices of red, yellow, and green apples to taste. They were then asked to stand at a spot in the room that showed which apple they liked best. They talked about how people are different, just like apples are different. An apple was cut to show them the star in the middle. They were reminded of the riddle to share with their parents. The book and educator's guide was donated to the school.
KFB Spotlight
November 11, 2019

Steve Kelley of Carlisle County will be honored as the 2019 Kentucky Farm Bureau (KFB) "Farmer of the Year" during the organization's 100th annual meeting in Louisville in December.
November 7, 2019

A good buddy of mine is an automotive technician and works on some of the newest and most technologically advanced vehicles on the road. During a recent conversation, I mentioned to him how surprised I am at the number of automobiles being manufactured these days without turn signals.
November 7, 2019

Getting to Flat Gap, Kentucky is not the easiest of trips, but well worth it once you arrive. The small eastern Kentucky town is located in the heart of the mountain region of Johnson County as well as in the state's rich coal mining country.