Food Checkout Week in Lincoln County
Lincoln County Judge Jim Adams met with the Lincoln County Farm Bureau Women's Committee on February 14, 2015 to declare the week of February 17-23 Food Check-Out Week in Lincoln County. On February 21, 2015, from 1:00 p.m. to 3:00 p.m., the Lincoln County Farm Bureau Women's Committee gave out brochures about healthy foods at the local Save-A-Lot in Stanford. They also gave a list of foods to customers. If they bought three items from the list they were given a jar of peanut butter. Peanut butter that was not given out was donated to Fort Logan Ministries.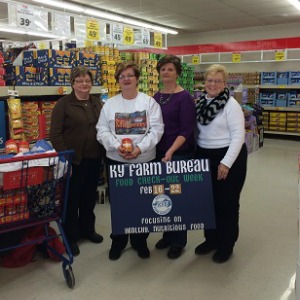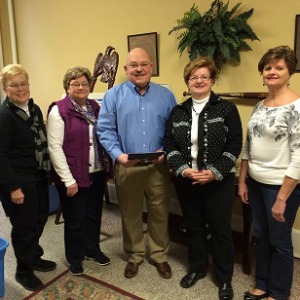 KFB Spotlight
January 18, 2021

Agriculture Commissioner Dr. Ryan Quarles invites Kentucky's youth to participate in the Kentucky Pollinator Stakeholders Art Contest. The contest is designed to educate the public on the benefits of pollinators and encourage behaviors that promote pollinator habitats across Kentucky.
January 13, 2021

Caleb and Leanne Ragland of LaRue County won a top honor during the American Farm Bureau Federation (AFBF) virtual convention today, being named winners of the Young Farmers & Ranchers "Achievement Award."
January 11, 2021

The American Farm Bureau's Virtual Convention kicked off with an opening address by AFBF President Zippy Duvall from his farm in Georgia.