2016 Women's Leadership Conference
Eight members of the Lincoln County Farm Bureau Women's Committee attended the Kentucky Farm Bureau Women's Leadership Conference on March 4th and 5th, 2016: Thelma Blair, Melinda Pence, Cathy Pleasants, Linda Gooch, Joyce Hester, Phyllis Long, Gracie Gilbert and Allene Burton. The conference was a huge success with 82 counties represented - the highest attendance of any previous leadership conference. The ladies heard about member services and legislative concerns. The speakers spoke on a variety of topics, including communication for agriculture and four things that the speaker learned from her Daddy. The motivational/comedian speaker at the end encouraged the women to be brave about what they needed to do to reach their goals. There were additional workshops on health and fitness as well as four tours offered of the area. Money was raised at the live and silent auction and went toward scholarships and grants that Kentucky Farm Bureau offers.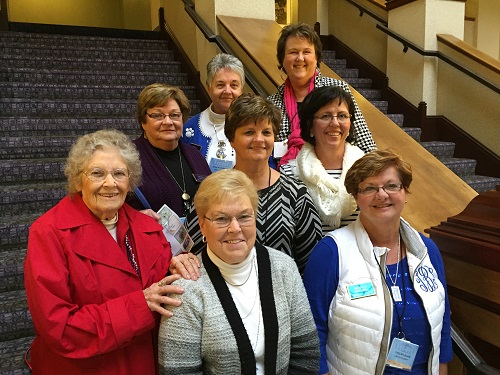 KFB Spotlight
September 21, 2023

Mark Haney announced today that he is stepping away from his role as president of Kentucky Farm Bureau (KFB) in December. Haney is the longest serving president in the organization's history.
September 20, 2023

Commissioner of Agriculture Dr. Ryan Quarles honored Kentucky's farmers and proclaimed Sept.17-23 as Farm Safety and Health Week in Kentucky at a Farmer's Appreciation and Awards Day on the Capitol Lawn Wednesday.
September 18, 2023

Pilot Oak, Kentucky is a very small community in southern Graves County. And while it may seem like a different world there from the hustle and bustle of Washington, D.C., the looming deadline to pass the next Farm Bill draws the two places closer than ever as farm families in this community and thousands of others advocate for programs contained in this legislation.