2016 Women's Leadership Conference
Eight members of the Lincoln County Farm Bureau Women's Committee attended the Kentucky Farm Bureau Women's Leadership Conference on March 4th and 5th, 2016: Thelma Blair, Melinda Pence, Cathy Pleasants, Linda Gooch, Joyce Hester, Phyllis Long, Gracie Gilbert and Allene Burton. The conference was a huge success with 82 counties represented - the highest attendance of any previous leadership conference. The ladies heard about member services and legislative concerns. The speakers spoke on a variety of topics, including communication for agriculture and four things that the speaker learned from her Daddy. The motivational/comedian speaker at the end encouraged the women to be brave about what they needed to do to reach their goals. There were additional workshops on health and fitness as well as four tours offered of the area. Money was raised at the live and silent auction and went toward scholarships and grants that Kentucky Farm Bureau offers.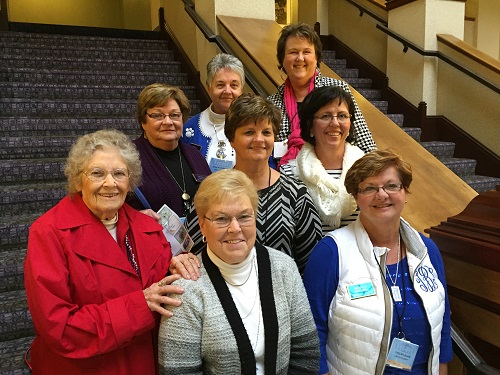 KFB Spotlight
Statement from Kentucky Farm Bureau President Mark Haney on Defense of Environment and Property Act of 2021

July 29, 2021

"We offer our thanks to Senator Rand Paul for introducing the Defense of Environment and Property Act of 2021 as we look forward to the clarity such legislation would bring to the Waters of the U.S. issue."
July 26, 2021

Three finalists have been named for the 2021 KFB OYFF honor, in recognition of their achievements as part of the farming community. This year's finalists are Jonathan and Jessica Gaskins of Adair County, Mark and Wesley Thomas of Hardin County, and Daniel and Kristan Wright of Jefferson County. The winner will be announced at the Kentucky Farm Bureau Annual Meeting later this year.
July 25, 2021

Effective January 1, 2022, KRS 139.481 requires that farmers have an Agriculture Exemption Number for use on Forms 51A158 and 51A159 to make purchases exempt from sales tax.