Kenton County Attends the 2018 Legislative Drive-in and Food Check-out Day
Kentucky Farm Bureau held its annual Legislative Drive-in in Frankfort on Wednesday, March 7, 2018. During the Drive-in, Farm Bureau members met with their state senators and representatives and advocated on behalf of agriculture. Members from Kenton county met with Senate Majority Floor Leader Damon Thayer to discuss agricultural issues that are important to them as farm families. Members also celebrated Food Check-Out Day, and brought a food basket to share real KY agriculture with Senator Thayer.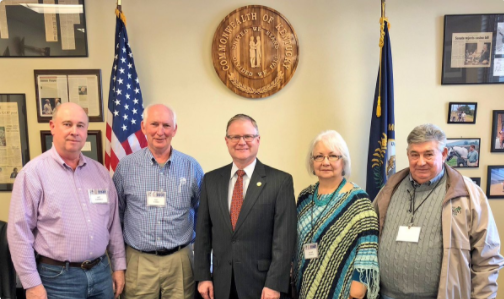 KFB Spotlight
March 21, 2023

Each year, Kentucky Farm Bureau (KFB) members by the hundreds make their way to the nation's capital to participate in the annual Congressional Tour.
March 21, 2023

For decades, environmental experts, government agencies, and concerned citizen groups have been hearing about and monitoring an area in the Gulf of Mexico that has come to be known as the Hypoxia Zone.
March 21, 2023

Every February, Kentucky Farm Bureau (KFB) county volunteer leaders make their way to the Derby City for the annual KFB Presidents and Vice Presidents Conference.