Kenton County Attends the 2018 Legislative Drive-in and Food Check-out Day
Kentucky Farm Bureau held its annual Legislative Drive-in in Frankfort on Wednesday, March 7, 2018. During the Drive-in, Farm Bureau members met with their state senators and representatives and advocated on behalf of agriculture. Members from Kenton county met with Senate Majority Floor Leader Damon Thayer to discuss agricultural issues that are important to them as farm families. Members also celebrated Food Check-Out Day, and brought a food basket to share real KY agriculture with Senator Thayer.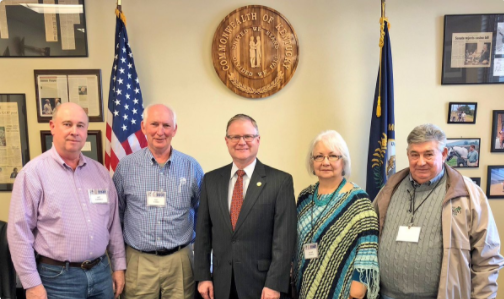 KFB Spotlight
December 15, 2021

The Kentucky Department of Agriculture (KDA) has created a resource page on its website for those affected by this weekend's disastrous weather events, Commissioner of Agriculture Dr. Ryan Quarles announced today.
December 10, 2021

As we gather together to be with friends and family during this holiday season, our Farm Bureau family is doing the same.
December 10, 2021

When I was elected as Kentucky Farm Bureau's Second Vice President three years ago, I did not view it just as becoming the first woman to serve in that capacity. I viewed it as an incredible opportunity to further my involvement in an organization I had been a part of for many years.