Jefferson County students awarded Farm Bureau scholarships
Louisville, KY (July 6, 2018) – Ten Jefferson County high school seniors received college scholarships from Kentucky Farm Bureau. In partnership with County Farm Bureaus, the Kentucky Farm Bureau Education Foundation awarded $396,550 this year to deserving students from across the Commonwealth.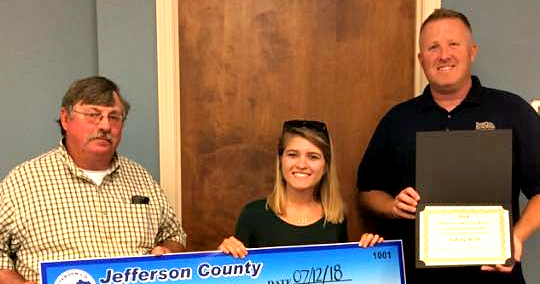 Jefferson County Farm Bureau awarded scholarships to the following students: Kara Cunningham of Louisville Male High School ($500), Janet Kay Gowam of Mercy Academy ($500), Hayden Larkin of Dupont Manual High School ($500), Sophia Samora of Seneca High School ($500), Karlee Stevenson of J. Graham Brown School ($500), Kynlee Stevenson of Seneca High School ($500), Sophia Vargas of Atherton High School ($500), Aubrey Wells of Seneca High School ($500), Cheyene Young of Seneca High School ($16,000) and Matthew Andres of Christian Academy ($16,000). Matthew Andres also received a $1,000 scholarship from Kentucky Farm Bureau Federation.
Farm Bureau scholarships, offered annually, are awarded to recipients who display the greatest levels of academic excellence, involvement in extracurricular activities, leadership abilities and financial need.
KFB Spotlight
May 17, 2019

In addition to being resourceful, hard-working and persistent, our nation's farmers have been very patient. We have endured continued drops in net farm income, a host of natural disasters, and some of the most volatile commodity markets experienced in decades.
May 9, 2019

I'm not sure if this is an age thing or not, but it seems to me that the older I get the more I reflect on the past, taking in all the moments and memories that have guided me to where I am today as a person, a husband, a father, a soon-to-be grandfather, and a communicator.
May 9, 2019

When thinking of Kentucky agriculture, many crops could come to mind including corn, soybeans, wheat, and tobacco, to name a few. But timber may not often be thought of as a crop.