Jefferson County students awarded Farm Bureau scholarships
Louisville, KY (July 6, 2018) – Ten Jefferson County high school seniors received college scholarships from Kentucky Farm Bureau. In partnership with County Farm Bureaus, the Kentucky Farm Bureau Education Foundation awarded $396,550 this year to deserving students from across the Commonwealth.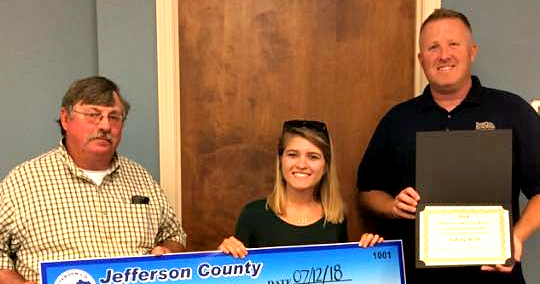 Jefferson County Farm Bureau awarded scholarships to the following students: Kara Cunningham of Louisville Male High School ($500), Janet Kay Gowam of Mercy Academy ($500), Hayden Larkin of Dupont Manual High School ($500), Sophia Samora of Seneca High School ($500), Karlee Stevenson of J. Graham Brown School ($500), Kynlee Stevenson of Seneca High School ($500), Sophia Vargas of Atherton High School ($500), Aubrey Wells of Seneca High School ($500), Cheyene Young of Seneca High School ($16,000) and Matthew Andres of Christian Academy ($16,000). Matthew Andres also received a $1,000 scholarship from Kentucky Farm Bureau Federation.
Farm Bureau scholarships, offered annually, are awarded to recipients who display the greatest levels of academic excellence, involvement in extracurricular activities, leadership abilities and financial need.
KFB Spotlight
October 27, 2021

The American Farm Bureau Federation will present one of its highest honors, the Farm Bureau Founders Award, to Terry Gilbert, former chair of AFBF's Women's Leadership Committee, during the 2022 American Farm Bureau Convention, Jan. 7-12 in Atlanta, Georgia.
October 25, 2021

Organizations with a history of support are a staple of the agriculture industry. This staple has been present in Kentucky agriculture and present in my own development. The support of these organizations is far reaching and effective on an individual level, but in the form of partnerships a new level of impact is attained.
October 25, 2021

Wesley Parker of Christian County will be honored as the 2021 Kentucky Farm Bureau (KFB) "Farmer of the Year" during the organization's 102nd annual meeting at the Galt House in Louisville this December.