Jefferson County students awarded Farm Bureau scholarships
Louisville, KY (July 6, 2018) – Ten Jefferson County high school seniors received college scholarships from Kentucky Farm Bureau. In partnership with County Farm Bureaus, the Kentucky Farm Bureau Education Foundation awarded $396,550 this year to deserving students from across the Commonwealth.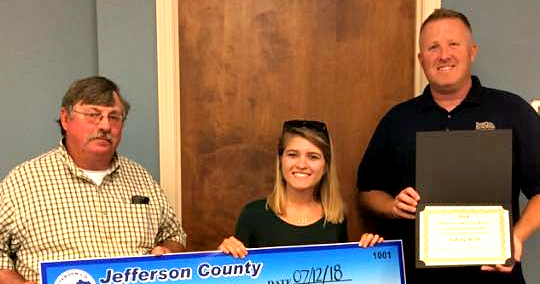 Jefferson County Farm Bureau awarded scholarships to the following students: Kara Cunningham of Louisville Male High School ($500), Janet Kay Gowam of Mercy Academy ($500), Hayden Larkin of Dupont Manual High School ($500), Sophia Samora of Seneca High School ($500), Karlee Stevenson of J. Graham Brown School ($500), Kynlee Stevenson of Seneca High School ($500), Sophia Vargas of Atherton High School ($500), Aubrey Wells of Seneca High School ($500), Cheyene Young of Seneca High School ($16,000) and Matthew Andres of Christian Academy ($16,000). Matthew Andres also received a $1,000 scholarship from Kentucky Farm Bureau Federation.
Farm Bureau scholarships, offered annually, are awarded to recipients who display the greatest levels of academic excellence, involvement in extracurricular activities, leadership abilities and financial need.
KFB Spotlight
September 21, 2023

Mark Haney announced today that he is stepping away from his role as president of Kentucky Farm Bureau (KFB) in December. Haney is the longest serving president in the organization's history.
September 20, 2023

Commissioner of Agriculture Dr. Ryan Quarles honored Kentucky's farmers and proclaimed Sept.17-23 as Farm Safety and Health Week in Kentucky at a Farmer's Appreciation and Awards Day on the Capitol Lawn Wednesday.
September 18, 2023

Pilot Oak, Kentucky is a very small community in southern Graves County. And while it may seem like a different world there from the hustle and bustle of Washington, D.C., the looming deadline to pass the next Farm Bill draws the two places closer than ever as farm families in this community and thousands of others advocate for programs contained in this legislation.