Jackson County Farm Bureau attends the Strategic Vision Meeting
The Jackson County Farm Bureau staff attended a gathering of Farm Bureau employees, state and county board members, and volunteers from across the state to "reflect on the past, examine the present and lean into the future. " This was a unique time of fellowship and talking about the strategic vision for the future of the company. The meeting was held at the Louisville Marriott Downtown on August 30 and 31, 2016.
Freddy Farm Bureau was also in attendance and ready to have his picture taken with everyone.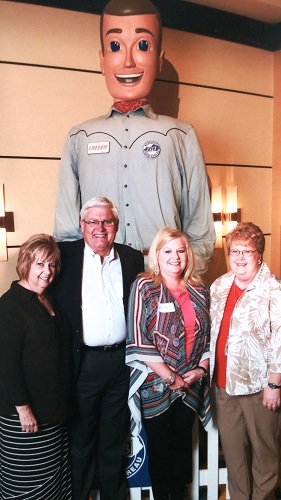 KFB Spotlight
Zach Heibert of Hardin County Named 2022 Kentucky Farm Bureau Excellence in Agriculture Award Recipient

September 29, 2022

Kentucky Farm Bureau (KFB) announced today that Zach Heibert of Hardin County is the 2022 KFB Excellence in Agriculture award recipient.
August 25, 2022

The 58th Kentucky Farm Bureau (KFB) Country Ham Breakfast brought in an impressive $5 million for charity organizations.
August 12, 2022

Anyone who has ever planted that first seed of a crop knows, as dedicated farm families, we are always at the mercy of Mother Nature.