Jackson County Farm Bureau attends the Strategic Vision Meeting
The Jackson County Farm Bureau staff attended a gathering of Farm Bureau employees, state and county board members, and volunteers from across the state to "reflect on the past, examine the present and lean into the future. " This was a unique time of fellowship and talking about the strategic vision for the future of the company. The meeting was held at the Louisville Marriott Downtown on August 30 and 31, 2016.
Freddy Farm Bureau was also in attendance and ready to have his picture taken with everyone.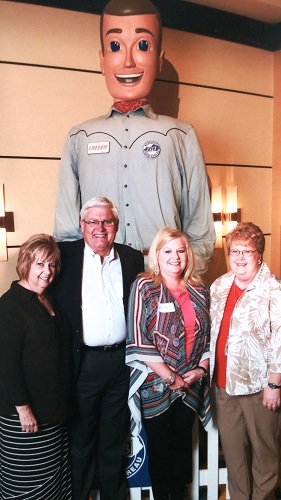 KFB Spotlight
April 23, 2019

Having grown up working on my grandparent's farm, I learned at an early age an appreciation of the farming way of life. I was taught the value agriculture holds for my family and the world around me.
A Look at Agriculture Outside the US: Seeing Argentina agriculture gives Kentucky farmers a new appreciation here, at home

April 5, 2019

Sometimes, the best way to see more clearly, and perhaps appreciate more, a specific issue that is close to home, is to observe if from a different perspective, in a different place.
April 4, 2019

Since the end of last December, several head of a beef cattle herd on the David and Mollie Appelman / ATM Farm, were kept in a compost bedded pack barn throughout the winter months, rather than out in the wet winter weather. The idea led to dryer feeding conditions, less water/waste run-off, easier working conditions, and happier cows.