Jackson County Farm Bureau hosts veterinarian clinic
Jackson County Farm Bureau and veterinarian Joey Minter teamed up to offer rabies and parvo shots to small pets belonging to Farm Bureau members on Friday, September 7th. Approximately 50 pets were vaccinated at a reduced cost to the member. The clinic, which was held in the parking lot at the Farm Bureau office in McKee, had a steady stream of customers throughout the morning. Farm Bureau plans to join with Dr. Minter to offer this program on an annual basis.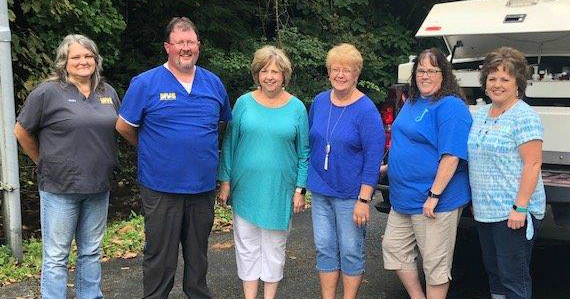 KFB Spotlight
September 21, 2020

The North American International Livestock Exposition (NAILE) was approved through the Kentucky Healthy at Work initiative to host a modified show this year. NAILE is the largest all-breed, purebred livestock exposition in the world and runs Nov. 3-19, 2020 at the Kentucky Exposition Center.
September 14, 2020

Unless you haven't been watching television or listening to the radio for the past several months, you have undoubtedly seen or heard the many political ads that are currently filling the airwaves, not to mention all the print ads in newspapers and magazines, and the many social media posts related to the upcoming election.
September 14, 2020

I'm blessed to have grown up on our family farm in Clark County. It taught me the benefits of hard work as I learned through hands-on activities that took place every day. I discovered how to grow crops, care for animals, and to be a good steward of the land. It was a classroom like no other and my parents set an example that I carry with me daily.