5 gadgets anyone can use for a safer, smarter home
Embracing smart home technology can seem incredibly daunting at first, but through simple, app-based controls, professional installation services, and affordable price points, anyone can make their home a little more intelligent.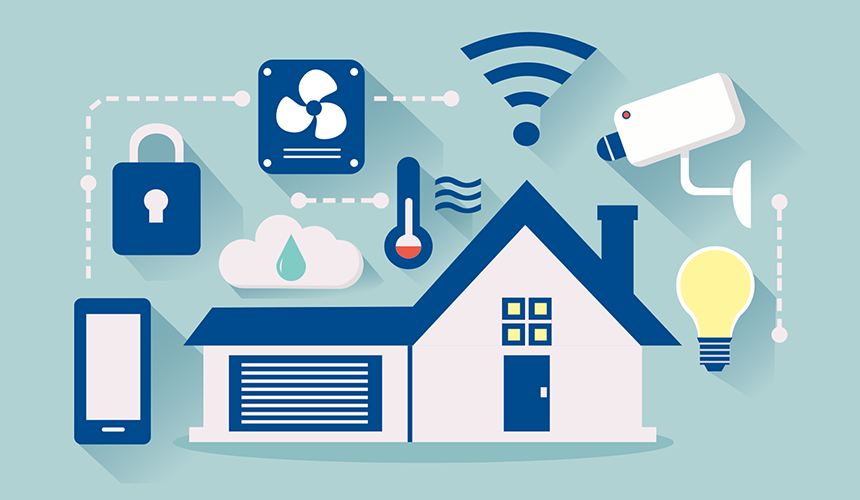 Picture this: You're driving to work on a hectic Monday morning, stuck in an endless line of cars, when a sinking feeling washes over you: "Did the backdoor get locked?"
If you're like most people, this unnerving scenario is all too familiar. We're human, after all, and when we rush around constantly from one place to another, we're eventually bound to forget something. But what happens when this oversight affects the things and people we value most?
Well, there's an app for that… and an appliance, and a lock, and a sensor, and every type of "gadget" imaginable. Our technology is smarter than ever before. While we haven't quite reached "Rosie the Robot Maid" levels of advancement, the idea of living in a Jetsons-like world is no longer just a far-fetched fantasy.
Dictionary.com defines "home automation" as "the control of domestic appliances by electronically controlled systems." While this concept is not actually new, home automation devices and solutions have only entered into mainstream retail markets over the past few years. Much of this technology is aimed at the average consumer, and today, you can find a variety of "smart home" products at most home repair stores.
For those of us without the time and patience to configure our own smart home, there are many wonderful home security companies that provide full service installation and monitoring solutions — leaving the technical aspects, and headaches, to the professionals. But for the DIY-er ready to customize and control a home's automation capabilities, this list is for you.
Whether you're a computer programmer or someone who can barely program the clock on the microwave, smart technology can be useful for and used by anyone. Embracing smart home technology can seem incredibly daunting at first, but through simple, app-based controls, professional installation services, and affordable price points, anyone can make their home a little more intelligent.
Check out five devices you can install today to create a safer, smarter home:
Smart security cameras
Security cameras and other home-monitoring technologies have been around for years, but gone are the days of needing to pay for expensive installations and monthly monitoring fees. Anyone with a smartphone or tablet and an internet connection can now take home monitoring into their own hands — literally. The available options are limitless, from outdoor surveillance systems to indoor, motion-activated devices that alert you every time movement is detected. Weather-proof cameras ensure monitoring even during the storm, and night-vision devices keep a watchful eye on your home at all hours of the day. With many consumer-grade security cameras for sale at under $100, and with both hard-wired and battery-powered options available, you can trust that your home will be safely secured in a way that suits your specific needs.

Smart doorbells
Think you have to be home to answer the door? Think again. Through the power of technology, you can now answer your door from anywhere in the world, eliminating the risk of opening your home to a stranger and deterring burglars looking for an unguarded house to raid. There are countless smart doorbells on the market, but most models are come equipped with motion sensors and two-way audio. Various models include features such as night-vision, on-demand video and push notifications, and a number of models offer free, cloud-based data storage. Whether you're in bed or in a different time zone, the notion of "nobody's home" is a thing of the past with smart doorbell technology.

Smart locks
Remember that sinking feeling described earlier, the one where you forgot to check your locks before heading to work? Well, cross that fear off your list of "worries that keep you up at night," because smart locks provide the peace of mind you're after. Smart locks can bolt your door remotely, but they can do so much more than that. Some locks allow you to assign a virtual key to friends and family, sending you user-specific notifications each time someone enters and leaves your home. Other locks can connect to your WiFi or Bluetooth enabled device, automatically opening the door when you arrive home and locking the door when you're on the way out. Smart locks can be purchased with keypad controls, while other models are controlled solely through your phone. Before you start to worry about someone "cyberhacking" their way into your home, know that smart lock technology embraces heavy duty encrypting. Smart locks are the virtual key to worry-free home safety.

Smart smoke detectors and carbon monoxide detectors
Smoke and carbon monoxide detectors are a must-have in any home. But, as the old adage goes, "If a tree falls in a forest and no one is around to hear it, does it make a sound?" The same can be said about traditional smoke and carbon monoxide detectors. They're great when you're at home and ready to respond, but how do you protect your beloved pets and possessions when you're halfway across town? Enter smart technology upgrades for your home safety mainstays. Smart smoke and carbon monoxide detectors don't just alarm when trouble is detected. Many models offer constant monitoring and monthly self tests, and all of this data can be accessed 24/7 through an app. Worried about the batteries dying at an inopportune moment? Well, have no fear. This is smart technology, after all, and there are a variety of alert methods that will let you know when it's time to change the batteries — long before your device quits working. Whether or not trouble is present in your home, smart smoke detectors and carbon monoxide detectors are accessible anytime, anywhere, ready to push alerts to your connected devices.

Smart thermostat
Have you ever woken up on an unexpectedly cold morning to find your home freezing? Getting out of bed on those frigid days can be a real battle. Adjusting your home's temperature to combat the rapidly changing Kentucky weather is challenging, but this problem can be easily solved with a smart thermostat. Unlike a traditional thermostat, smart thermostats don't require manual adjustments. With a bit of upfront programming, a smart thermostat will begin to learn your household's temperature needs and adjust accordingly. Lying in bed on a chilly morning? You can flip on the heather without ever leaving the covers via a mobile app. Besides the learning and accessible-anywhere capabilities, most smart thermostats are also committed to making your home more energy efficient. Sensors can detect when you're at home and away, and the smart thermostat can adjust the temperature settings to help you save some green — in more ways than one. While smart thermostats are more expensive than their traditional counterparts, the upfront investment is often worth the lifetime of savings.

Delving into the world of smart home technology can be frightening at first, but with simple, user-friendly solutions at accessible price points, creating a smarter, safer home is something everyone can do. Bring your home into the 21st century with home automation and benefit from the security that smart tech offers. Check online or at your local hardware store to begin upgrading your home today.

>> Homeowner Tip: Did you know that Kentucky Farm Bureau Insurance also offers discounts for using smoke detectors, dead-bolt locks, and more? Check with your local agent today to see if you qualify for a discount on your Homeowners policy.