Hopkins County youth showcase talent at Kentucky Farm Bureau Outstanding Youth and Variety Contest
Hopkins County Farm Bureau was well represented in the 2nd District Kentucky Farm Bureau Outstanding Youth and Variety Contest held Oct 22 in Madisonville. Laney Farmer, a senior from HCCHS, placed 3rd in the female Outstanding Youth Competition. Laney is the daughter of Dr. Joey and Teryl Farmer. Grace Brumfield, a 6th grader at Christ the King, performed a beautiful vocal performance. Grace is the daughter of Shawn and Shannon Brumfield. Jacob Dickerson, a senior at MNHHS, competed in the male Outstanding Youth Contest. Jacob is the son of Lane and Vicki Dickerson.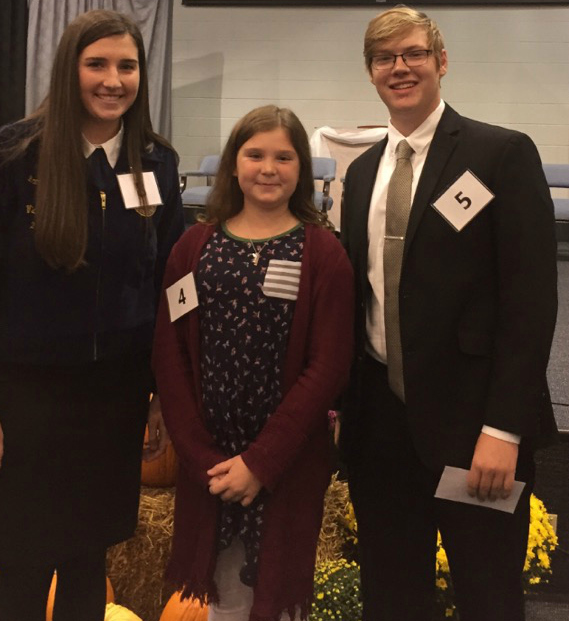 KFB Spotlight
November 21, 2019

The American Farm Bureau Federation's 34th annual survey of classic items found on the Thanksgiving Day dinner table indicates the average cost of this year's feast for 10 is $48.91, or less than $5.00 per person. This is a 1-cent increase from last year's average of $48.90.
November 19, 2019

Kentucky Farm Bureau, the state's largest and most influential farm organization, has been named winner of the 2019 Agribusiness of the Year award.
November 11, 2019

Steve Kelley of Carlisle County will be honored as the 2019 Kentucky Farm Bureau (KFB) "Farmer of the Year" during the organization's 100th annual meeting in Louisville in December.