Hopkins County youth showcase talent at Kentucky Farm Bureau Outstanding Youth and Variety Contest
Hopkins County Farm Bureau was well represented in the 2nd District Kentucky Farm Bureau Outstanding Youth and Variety Contest held Oct 22 in Madisonville. Laney Farmer, a senior from HCCHS, placed 3rd in the female Outstanding Youth Competition. Laney is the daughter of Dr. Joey and Teryl Farmer. Grace Brumfield, a 6th grader at Christ the King, performed a beautiful vocal performance. Grace is the daughter of Shawn and Shannon Brumfield. Jacob Dickerson, a senior at MNHHS, competed in the male Outstanding Youth Contest. Jacob is the son of Lane and Vicki Dickerson.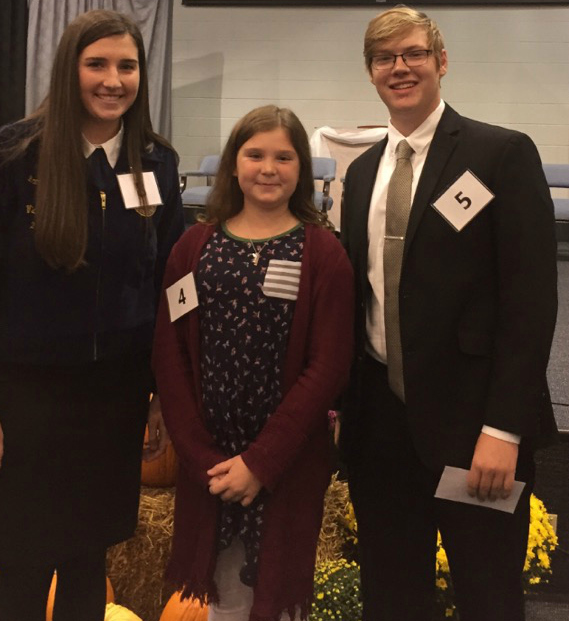 KFB Spotlight
November 23, 2020

Ginny Lyle of Franklin County and Brady Lawson of Morgan County were awarded top honors in the Kentucky Farm Bureau 2020 Outstanding Farm Bureau Youth contest.
November 19, 2020

Thanksgiving celebrations will look different for many Americans this year due to the COVID-19 pandemic. Gatherings are likely to be fewer and farther between, with social distancing and perhaps even remote family get-togethers. One tradition that continues this year is the American Farm Bureau Federation's annual cost survey of classic items found on the Thanksgiving Day dinner table.
November 19, 2020

Ann Margaret Hughes from Wayne County has won top honors in Kentucky Farm Bureau's (KFB) Excellence in Agriculture Awards program for 2020.