Hopkins County youth showcase talent at Kentucky Farm Bureau Outstanding Youth and Variety Contest
Hopkins County Farm Bureau was well represented in the 2nd District Kentucky Farm Bureau Outstanding Youth and Variety Contest held Oct 22 in Madisonville. Laney Farmer, a senior from HCCHS, placed 3rd in the female Outstanding Youth Competition. Laney is the daughter of Dr. Joey and Teryl Farmer. Grace Brumfield, a 6th grader at Christ the King, performed a beautiful vocal performance. Grace is the daughter of Shawn and Shannon Brumfield. Jacob Dickerson, a senior at MNHHS, competed in the male Outstanding Youth Contest. Jacob is the son of Lane and Vicki Dickerson.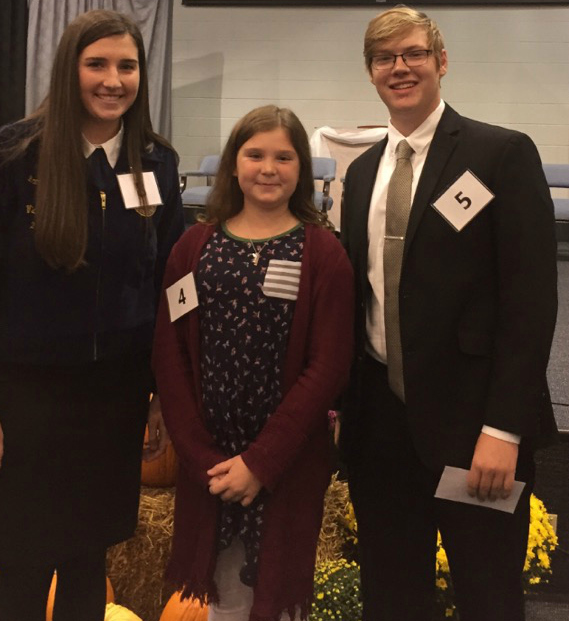 KFB Spotlight
December 13, 2018

Kentucky is 'home to more than 75,000 farms. They produce everything from soybeans and poultry to horses and corn. Those families are looking to us for help and stability. And when President Trump signs our Farm Bill into law, more stability is just what they will get.'
December 13, 2018

December 12, 2018 - Today the House of Representatives passed a five-year Farm Bill. Congressman Comer, along with 368 other congressional colleagues, voted in support of the bill. The Agriculture Improvement Act (H.R. 2) includes many incremental wins for rural America. It fully protects crop insurance, makes significant improvements to rural broadband, and implements key changes to the Supplemental Nutrition Assistance Program (SNAP).
December 12, 2018

I can't tell you how pleased I am we have passage of the 2018 Farm Bill. As I have said before, this bill is the single most important piece of legislation connected to agriculture we have, and with its passage comes the certainty farm families need to move forward with their operations, in a very challenging ag economy.