Testimonials
Henderson County Agency testimonials.
I want to extend my heart felt gratitude to you, Terri Stanley and to all of your staff at Farm Bureau. My family and I recently suffered a great loss due to an unexplained fire. I'd never experienced this type of tragedy, and honestly I never thought I would. We lost all of our personal belongings and our home was completely destroyed.

You came to our home, stood with us as we watched our home burn to the ground. From the start we knew we were not alone. Farm Bureau provided us needed cash and a hotel room immediately. We stayed in a hotel for 2 weeks until a rental home was secured. We are now rebuilding our home and piecing back the items that were lost. Some things will never be replaced, but without the provision secured through Farm Bureau our losses would have been much greater.

I appreciate your help working with us during our difficult and emotional times. We are blessed to have great friends that offered us a place to stay if needed, but because we have you and Farm Bureau our needs have been met every step of the way.
God bless you,
The loss of power due to the January ice storm kept me from my home for 11 days. The day my electricity was restored, I arrived home to find half of my home in water and everything in my refrigerator ruined.
I phoned your office the next day. A member of your staff filed a claim for me immediately. She also advised me to contact a contractor (provided a name and phone number) to remove the carpets and padding, to check the floors for damage, and start the drying process to prevent mold. She phoned several times that day to advise me of the status of my claim, the phone number of the claim department and an approximate time an adjustor would be at my home. After the adjustor evaluated the damage, a check was in the mail within a few days.
The kind help and understanding I received from you and your staff will always be fondly remembered and is what makes Henderson Kentucky Farm Bureau #1. A heartfelt thanks to you and your staff from a very satisfied customer.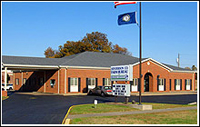 Service is very important to me. Farm Bureau Insurance gives service from the beginning to the end of the insurance process. They work hard to give me a premium that pleases my pocketbook, while working quickly to resolve any claim I may incur. Farm Bureau Insurance is as concerned about service as I am.
We would like to express our appreciation to your for the wonderful job done by all after our recent fire. The prompt attention to our every need and the restoration of our home and office was done in an efficient and timely manner. We can never really express (how grateful we are) to all concerned for the good job that was done.