Henderson County Farm Bureau Women's Committee makes donation to local fire department
The Women's Committee of Henderson County Farm Bureau Chair and Co-Chair, Alice Skaggs and Brenda Williams, presented a check for $650 to the Henderson County Fire Department. The funds will be used to place "Stop-the-Bleed" kits in the schools. It is the hope that they will never have to be used; but available in the possibility of a school tragedy.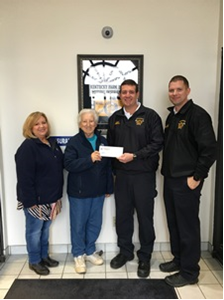 KFB Spotlight
May 5, 2021

I have been blessed with the opportunity to travel quite a bit around our beautiful state and often I have visited places that seemed more special than others, even though I had never been there before.
May 5, 2021

One of the most important issues facing the agriculture industry today is the ability to pass a farm on to the next generation either by inheritance or through selling. It sounds easy enough but often tax laws can make the process cumbersome and expensive.
May 5, 2021

As the current Congressional Session continues, lawmakers on both sides of the aisle are outlining their policy priorities and getting to work on making those priorities into law. Our team here in Washington, D.C., is tracking all these issues closely and working to ensure that priorities for U.S. agriculture remain front and center.