Henderson County Farm Bureau Women's Committee makes donation to local fire department
The Women's Committee of Henderson County Farm Bureau Chair and Co-Chair, Alice Skaggs and Brenda Williams, presented a check for $650 to the Henderson County Fire Department. The funds will be used to place "Stop-the-Bleed" kits in the schools. It is the hope that they will never have to be used; but available in the possibility of a school tragedy.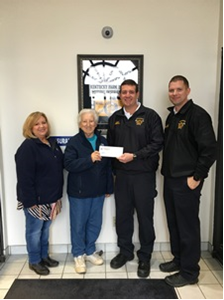 KFB Spotlight
January 15, 2020

With today's signing of the Phase I Trade Agreement between the U.S. and China, our farm families here and across the country have renewed hope of normalized agricultural trade between our country and what was once our largest ag-export market.
January 15, 2020

The Kentucky Farm Bureau (KFB) Marketbasket Survey results from the fourth quarter of 2019 indicate price fluctuations to most food items and a slight increase in the overall cost of food over the course of the year.