Henderson County Farm Bureau Women's Committee makes donation to local fire department
The Women's Committee of Henderson County Farm Bureau Chair and Co-Chair, Alice Skaggs and Brenda Williams, presented a check for $650 to the Henderson County Fire Department. The funds will be used to place "Stop-the-Bleed" kits in the schools. It is the hope that they will never have to be used; but available in the possibility of a school tragedy.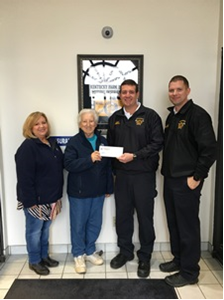 KFB Spotlight
October 7, 2019

The Office of the State Climatologist and the Kentucky Energy and Environment Cabinet, in coordination with the Kentucky Drought Mitigation Team, are issuing a Level 2 for 78 counties and a Level 1 drought declaration for 42 counties.
October 1, 2019

In September 2018, the Whitehouse announced a trade deal had been reached with two of the United States' largest trading partners, Canada and Mexico.
September 12, 2019

Repeal of the 2015 Waters of the United States rule is a victory for clean water and clear rules. As farmers, we share the goal of protecting the nation's water, but the 2015 Waters of the United States rule was unreasonable and unworkable. It made conservation more difficult and created huge liabilities for farmers.