Henderson County 2015 Farm Follies
Farm Follies was sponsered by Henderson County Farm Bureau, performed by Henderson County 4th and 5th grade Gifted and Talented students.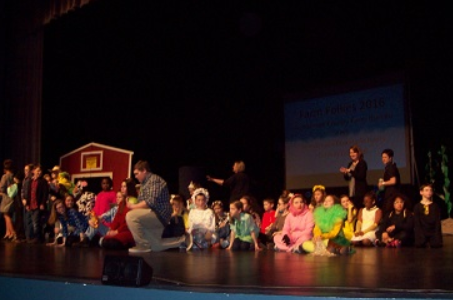 Henderson County Farm Bureau's 6th Annual Gifted and Talented Drama Performance was held March 2, 2015 at the Henderson Fine Arts Center. Eight local schools participated. The plays were written by eighth grade Creativity Gifted and Talented students and performed by the fourth and fifth grade drama Gifted and Talented students. The Master of Ceremonies for the evening was Jeff King, Henderson Farm Bureau.
The superb entertainment consisted of "The Brave Farm Girl" (A B Chandler Elementary), "Never Farm" (Bend Gate and Jefferson Elementary), "The Real Story of Hansel and Gretel" (East Heights Elementary), "Boulder Burgoo-A Play Within a Play" (Cairo Elementary), "Henderella: A Cinderella Story" (Spottsville Elementary), "Little Red Farming Hood" (Niagara Elementary), and "Are You My Farmer?" (South Heights Elementary).
The Board of Directors worked with the advisors and students to create props, costumes, equipment, sound, and lighting. Several hours of pre-work culminated into a fantastic evening, allowing Henderson County students to showcase their talent.
The first, second, and third place winners were awarded a monetary gift for each school. The playwrights of each drama were also awarded a monetary gift for their efforts.
KFB Spotlight
April 6, 2021

Kentucky Farm Bureau was founded on the principle of grassroots advocacy, a methodology that has served the organization well for more than 100 years.
April 6, 2021

As we prepare for spring planting and another growing season on the farm, it goes without saying that most of us will be reflecting on the past year and the dark winter we have come through.
April 6, 2021

As the subject of climate change gathers momentum in Washington, D.C., Farm Bureau has been preparing for it over the last year. In February of 2020, the American Farm Bureau Federation (AFBF) became one of the founding members of the Food and Agriculture Climate Alliance (FACA) which is comprised of organizations representing farmers, ranchers, forest owners, the food sector, state governments and environmental advocates that are working together to define and promote shared climate policy priorities.