Henderson County 2015 Farm Follies
Farm Follies was sponsered by Henderson County Farm Bureau, performed by Henderson County 4th and 5th grade Gifted and Talented students.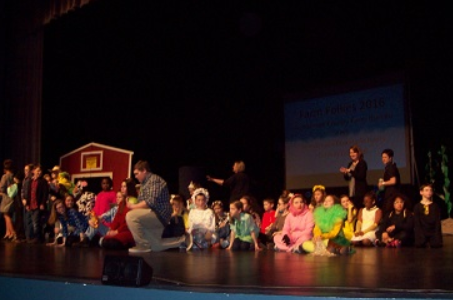 Henderson County Farm Bureau's 6th Annual Gifted and Talented Drama Performance was held March 2, 2015 at the Henderson Fine Arts Center. Eight local schools participated. The plays were written by eighth grade Creativity Gifted and Talented students and performed by the fourth and fifth grade drama Gifted and Talented students. The Master of Ceremonies for the evening was Jeff King, Henderson Farm Bureau.
The superb entertainment consisted of "The Brave Farm Girl" (A B Chandler Elementary), "Never Farm" (Bend Gate and Jefferson Elementary), "The Real Story of Hansel and Gretel" (East Heights Elementary), "Boulder Burgoo-A Play Within a Play" (Cairo Elementary), "Henderella: A Cinderella Story" (Spottsville Elementary), "Little Red Farming Hood" (Niagara Elementary), and "Are You My Farmer?" (South Heights Elementary).
The Board of Directors worked with the advisors and students to create props, costumes, equipment, sound, and lighting. Several hours of pre-work culminated into a fantastic evening, allowing Henderson County students to showcase their talent.
The first, second, and third place winners were awarded a monetary gift for each school. The playwrights of each drama were also awarded a monetary gift for their efforts.
KFB Spotlight
January 20, 2021

Kentucky Farm Bureau (KFB) has released the names of individuals elected to lead its new initiative, Generation Bridge. Amanda Gajdzik of Shelby County has been elected chair, Tammy White of Union County is vice chair, and Sarah Beth Guffey from Clinton County is secretary of this newly formed committee.
January 18, 2021

Agriculture Commissioner Dr. Ryan Quarles invites Kentucky's youth to participate in the Kentucky Pollinator Stakeholders Art Contest. The contest is designed to educate the public on the benefits of pollinators and encourage behaviors that promote pollinator habitats across Kentucky.
January 13, 2021

Caleb and Leanne Ragland of LaRue County won a top honor during the American Farm Bureau Federation (AFBF) virtual convention today, being named winners of the Young Farmers & Ranchers "Achievement Award."