Henderson County 2015 Farm Follies
Farm Follies was sponsered by Henderson County Farm Bureau, performed by Henderson County 4th and 5th grade Gifted and Talented students.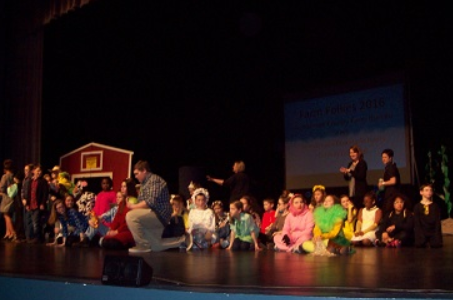 Henderson County Farm Bureau's 6th Annual Gifted and Talented Drama Performance was held March 2, 2015 at the Henderson Fine Arts Center. Eight local schools participated. The plays were written by eighth grade Creativity Gifted and Talented students and performed by the fourth and fifth grade drama Gifted and Talented students. The Master of Ceremonies for the evening was Jeff King, Henderson Farm Bureau.
The superb entertainment consisted of "The Brave Farm Girl" (A B Chandler Elementary), "Never Farm" (Bend Gate and Jefferson Elementary), "The Real Story of Hansel and Gretel" (East Heights Elementary), "Boulder Burgoo-A Play Within a Play" (Cairo Elementary), "Henderella: A Cinderella Story" (Spottsville Elementary), "Little Red Farming Hood" (Niagara Elementary), and "Are You My Farmer?" (South Heights Elementary).
The Board of Directors worked with the advisors and students to create props, costumes, equipment, sound, and lighting. Several hours of pre-work culminated into a fantastic evening, allowing Henderson County students to showcase their talent.
The first, second, and third place winners were awarded a monetary gift for each school. The playwrights of each drama were also awarded a monetary gift for their efforts.
KFB Spotlight
October 19, 2020

As we draw closer to Election Day 2020, I understand the anxiety many of us are feeling. The past year has been tough in so many respects, whether we live in rural communities on Kentucky's many family farms or we live in urban areas.
October 19, 2020

As the need to bring awareness to mental health issues continues to grow across this state and the country, a group of organizations in Daviess County have banded together to support those living in their rural communities who are facing tough times and difficult decisions.
October 19, 2020

October is one of my favorite months of the year. I love to see the changing of the leaves and the feel of cooler temperatures. But it is food that garners most of my attention this time of year. I know when October rolls around, the menu at my house takes a turn toward traditional fall food offerings such as chili and homemade soups, not to mention all the yummy desserts.