2015 Soil Stewardship and Awards Banquet
The annual Harlan County Conservation District's Soil Stewardship and Awards Banquet was held April 28, 2015 at the Ackley Lodge Dining Hall at Camp Blanton in Harlan County Kentucky. Awards were presented to the winners of the 2015 Harlan County Conservation District's Jim Claypool writing and art contest. Don Miniard, president of Harlan County Farm Bureau, helped give the checks and awards to the winners and runners up.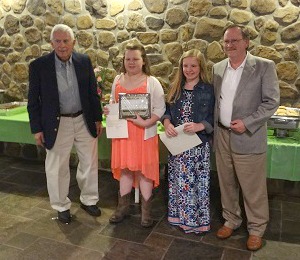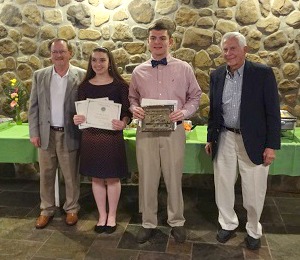 KFB Spotlight
November 15, 2018

The American Farm Bureau Federation's 33rd annual survey of classic items found on the Thanksgiving Day dinner table indicates the average cost of this year's feast for 10 is $48.90, or less than $5.00 per person. This is a 22-cent decrease from last year's average of $49.12.

"Since 2015, the average cost of Thanksgiving dinner has declined steadily and is now at the lowest level since 2010," said AFBF Chief Economist Dr. John Newton.
November 7, 2018

Three finalists have been named for the 2018 Kentucky Farm Bureau OYFF honor, in recognition of their achievements as part of the farming community. The finalists are Nicholas and Bethany Hardesty of Meade County, Wesley and Alicia Logsdon of Pulaski County, and Drew and Liz White of Union County. The winner will be announced at the Kentucky Farm Bureau Annual Meeting at the end of November.
November 7, 2018

Kentucky Farm Bureau (KFB) leaders and commodity executives from across the state gathered for a legislative preview meeting on November 7, 2018 at the KFB headquarters in Louisville, Kentucky. The group of more than 30 individuals representing agriculture commodity groups came together to discuss several ag-related topics and the many legislative needs and concerns of farmers and rural communities throughout the Commonwealth.