2015 Annual Tree Giveaway
Harlan County Farm Bureau's Annual Tree Giveaway was April 23. As a service to our members, we gave away 1,000 trees including: Kentucky coffee tree, American chestnut hybrid, northern red oak, shortleaf pine, white oak, black walnut, hazelnut, pecan, persimmon and mulberry. The trees were distributed outside the Harlan County Farm Bureau Frank Couch Building. Hundreds of members took advantage of this benefit; it was a total success.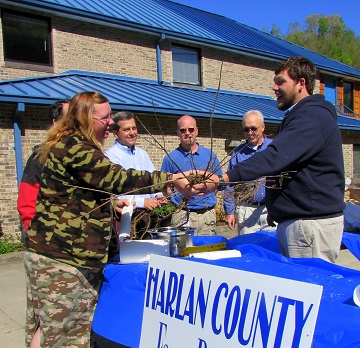 KFB Spotlight
November 11, 2019

Steve Kelley of Carlisle County will be honored as the 2019 Kentucky Farm Bureau (KFB) "Farmer of the Year" during the organization's 100th annual meeting in Louisville in December.
November 7, 2019

A good buddy of mine is an automotive technician and works on some of the newest and most technologically advanced vehicles on the road. During a recent conversation, I mentioned to him how surprised I am at the number of automobiles being manufactured these days without turn signals.
November 7, 2019

Getting to Flat Gap, Kentucky is not the easiest of trips, but well worth it once you arrive. The small eastern Kentucky town is located in the heart of the mountain region of Johnson County as well as in the state's rich coal mining country.