2015 Annual Tree Giveaway
Harlan County Farm Bureau's Annual Tree Giveaway was April 23. As a service to our members, we gave away 1,000 trees including: Kentucky coffee tree, American chestnut hybrid, northern red oak, shortleaf pine, white oak, black walnut, hazelnut, pecan, persimmon and mulberry. The trees were distributed outside the Harlan County Farm Bureau Frank Couch Building. Hundreds of members took advantage of this benefit; it was a total success.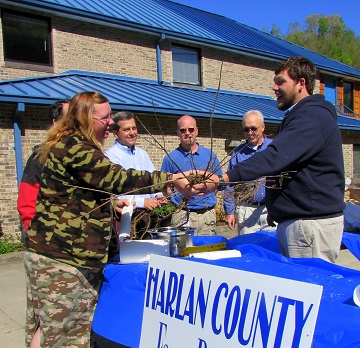 KFB Spotlight
August 12, 2022

Anyone who has ever planted that first seed of a crop knows, as dedicated farm families, we are always at the mercy of Mother Nature.
August 12, 2022

Whether it is the use of GPS to map fields or check soil conditions, the advanced yield monitoring equipment that tells us valuable crop yield information in real-time, or even the weather radar access we have to watch changing conditions directly from the field.
August 10, 2022

I have tried to be an optimistic person most of my life even when challenging times are present and the world seems to be disconnected.