2015 Annual Tree Giveaway
Harlan County Farm Bureau's Annual Tree Giveaway was April 23. As a service to our members, we gave away 1,000 trees including: Kentucky coffee tree, American chestnut hybrid, northern red oak, shortleaf pine, white oak, black walnut, hazelnut, pecan, persimmon and mulberry. The trees were distributed outside the Harlan County Farm Bureau Frank Couch Building. Hundreds of members took advantage of this benefit; it was a total success.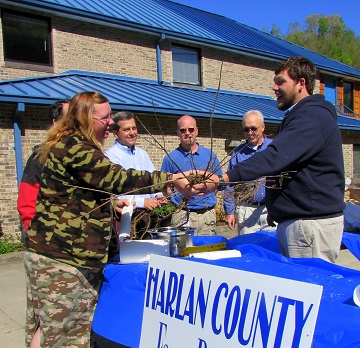 KFB Spotlight
August 10, 2020

The American Farm Bureau Foundation for Agriculture and the Ford Motor Company are teaming up to put agriculture education resources in the hands of teachers and students across the country.
July 27, 2020

Agriculture Commissioner Dr. Ryan Quarles is sounding the alarm about reports of foreign seeds being shipped unsolicited to Kentuckians across the Commonwealth. Kentucky is the fourth state known to receive suspicious packages of seeds that appear to have originated from China.
July 14, 2020

Kentucky Farm Bureau Studios received two nominations in the 56th Annual Ohio Valley Regional Emmy Awards. The nominated segments highlighting the culture and charm of rural Kentucky aired on RFD-TV and Kentucky Educational Television.