2015 Annual Tree Giveaway
Harlan County Farm Bureau's Annual Tree Giveaway was April 23. As a service to our members, we gave away 1,000 trees including: Kentucky coffee tree, American chestnut hybrid, northern red oak, shortleaf pine, white oak, black walnut, hazelnut, pecan, persimmon and mulberry. The trees were distributed outside the Harlan County Farm Bureau Frank Couch Building. Hundreds of members took advantage of this benefit; it was a total success.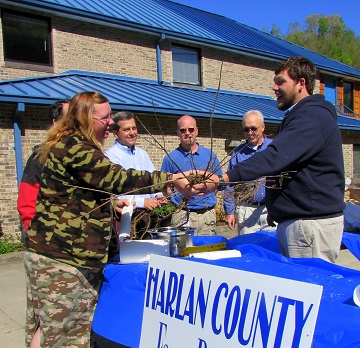 KFB Spotlight
November 25, 2020

Caleb and Leanne Ragland of LaRue County have been named Kentucky Farm Bureau's (KFB) "2020 Outstanding Young Farm Family". This annual award recognizes a couple or individual under the age of 35 that demonstrates strong farm management skills, KFB and community involvement, and consistent financial growth through their farm.
November 23, 2020

Ginny Lyle of Franklin County and Brady Lawson of Morgan County were awarded top honors in the Kentucky Farm Bureau 2020 Outstanding Farm Bureau Youth contest.
November 19, 2020

Thanksgiving celebrations will look different for many Americans this year due to the COVID-19 pandemic. Gatherings are likely to be fewer and farther between, with social distancing and perhaps even remote family get-togethers. One tradition that continues this year is the American Farm Bureau Federation's annual cost survey of classic items found on the Thanksgiving Day dinner table.