2015 Annual Tree Giveaway
Harlan County Farm Bureau's Annual Tree Giveaway was April 23. As a service to our members, we gave away 1,000 trees including: Kentucky coffee tree, American chestnut hybrid, northern red oak, shortleaf pine, white oak, black walnut, hazelnut, pecan, persimmon and mulberry. The trees were distributed outside the Harlan County Farm Bureau Frank Couch Building. Hundreds of members took advantage of this benefit; it was a total success.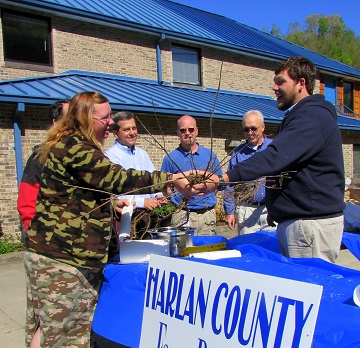 KFB Spotlight
December 1, 2023

Gilles will represent Kentucky in the national competition at the 2024 American Farm Bureau Federation convention in January and will be vying for prizes, including $35,000 towards a new Ford truck.
December 1, 2023

The Pulaski County farmer, who will retire from his position as KFB President at the end of this year, delivered a review of the year and shared his remarks about the past and future of the organization.
November 30, 2023

The commodity luncheon kicked off with a welcome from KFB President Mark Haney. In his remarks, Mr. Haney expressed gratitude for those in attendance, noting that this year's crowd at the KFB annual meeting is expected to be record-breaking.