Local Farmer in Japan on State Trade Mission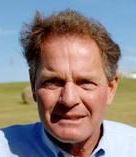 Ray Allan Mackey is 13 hours ahead of everyone in Hardin County.
Mackey, a local farmer and board member for the Kentucky Corn Promotion Council, arrived Sunday evening in Japan to take part in an international trade mission with the United States Meat Export Fed­eration to advocate for Kentucky farmers. He will be in Japan through Friday.
To view the rest of the article visit: https://bit.ly/2vj7KWT
KFB Spotlight
May 9, 2023

As farm families across the state continue with spring planting, I'm reminded of how far we have come over the years in this process, from an agricultural technology standpoint, while never losing sight of the reasons we plant a crop.
May 9, 2023

Improving water quality has been a long-term goal of the state's agricultural sector well in advance of the many climate issues currently making headlines.
May 9, 2023

As humans, it's very easy to draw conclusions about something by sight alone. But we don't all see things—or in my case, places—in the same way. What I might think is beautiful, another may see just the opposite, and vice versa.