Hancock County students awarded Farm Bureau scholarships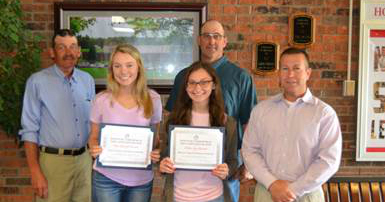 Louisville, KY (July 6, 2018) - – Hope Elizabeth Emmick and Shelby Lynn Winchell, both seniors at Hancock County High School, are the recipients of college scholarships from Hancock County Farm Bureau. In partnership with County Farm Bureaus, the Kentucky Farm Bureau Education Foundation awarded $465,400 this year to deserving students from across the Commonwealth.
Hope Elizabeth Emmick was awarded a $1,000 scholarship. After graduating from high school, Emmick plans to attend the University of Louisville to pursue a degree in nursing. She is the daughter of Shelby and Heather Emmick of Lewisport, KY.
Shelby Lynn Winchell also was awarded a $1,000 scholarship. After completing high school, Winchell will attend Western Kentucky University to earn degrees in agronomy and agriculture business. She is the daughter of David and Elizabeth J. Winchell of Hawesville, KY.
Farm Bureau scholarships, offered annually, are awarded to recipients who display the greatest levels of academic excellence, involvement in extracurricular activities, leadership abilities and financial need.
KFB Spotlight
November 21, 2022

Katie Cecil of Daviess County, a second-generation farmer at Cecil Farms, was named the 2022 Kentucky Farm Bureau (KFB) Generation Bridge Advocate of the Year.
November 14, 2022

The Kentucky Farm Bureau Young Farmer Gold Star award honors a county's Young Farmer Committee for its active participation in Farm Bureau leadership development programs, state competitions, and educational or promotional initiatives.
November 3, 2022

As the harvest season in Kentucky winds down, I understand the challenges many of you have faced, especially our state's corn producers. I have heard yield numbers anywhere from 32 bushels per acre where the drought came at the worst possible time during the growing season, to nearly 200 bushels in spots where the rains were adequate.