Hancock County students awarded Farm Bureau scholarships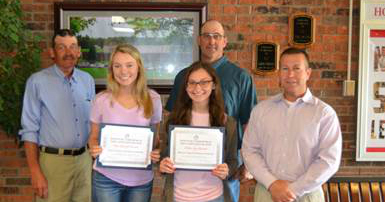 Louisville, KY (July 6, 2018) - – Hope Elizabeth Emmick and Shelby Lynn Winchell, both seniors at Hancock County High School, are the recipients of college scholarships from Hancock County Farm Bureau. In partnership with County Farm Bureaus, the Kentucky Farm Bureau Education Foundation awarded $465,400 this year to deserving students from across the Commonwealth.
Hope Elizabeth Emmick was awarded a $1,000 scholarship. After graduating from high school, Emmick plans to attend the University of Louisville to pursue a degree in nursing. She is the daughter of Shelby and Heather Emmick of Lewisport, KY.
Shelby Lynn Winchell also was awarded a $1,000 scholarship. After completing high school, Winchell will attend Western Kentucky University to earn degrees in agronomy and agriculture business. She is the daughter of David and Elizabeth J. Winchell of Hawesville, KY.
Farm Bureau scholarships, offered annually, are awarded to recipients who display the greatest levels of academic excellence, involvement in extracurricular activities, leadership abilities and financial need.
KFB Spotlight
September 22, 2021

As Kentucky Farm Bureau's Centennial Year came to a close in 2019, the Vision 100 Committee was created at the direction of KFB President Mark Haney. This committee, comprised of KFB volunteer leaders from the local level, as well as staff from both the Federation and the Insurance Company, was convened to help guide strategic planning for the future of the entire organization.
September 19, 2021

Commissioner of Agriculture Dr. Ryan Quarles has proclaimed Sept.19-25 as Farm Safety and Health Week in Kentucky to encourage farmers and farm workers to put their health and safety first at all times. The theme for this year's safety week is "Farm Safety Yields Real Results."
September 8, 2021

A recent survey conducted by an organization known as "Kindness.org" listed Kentucky as being the kindest state in the U.S. Now, I'm no rocket scientist, but I have figured that one out; no survey needed.