Hancock County students awarded Farm Bureau scholarships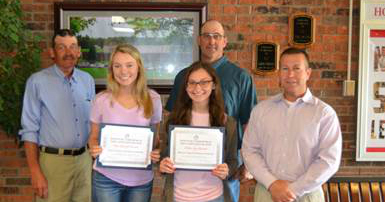 Louisville, KY (July 6, 2018) - – Hope Elizabeth Emmick and Shelby Lynn Winchell, both seniors at Hancock County High School, are the recipients of college scholarships from Hancock County Farm Bureau. In partnership with County Farm Bureaus, the Kentucky Farm Bureau Education Foundation awarded $465,400 this year to deserving students from across the Commonwealth.
Hope Elizabeth Emmick was awarded a $1,000 scholarship. After graduating from high school, Emmick plans to attend the University of Louisville to pursue a degree in nursing. She is the daughter of Shelby and Heather Emmick of Lewisport, KY.
Shelby Lynn Winchell also was awarded a $1,000 scholarship. After completing high school, Winchell will attend Western Kentucky University to earn degrees in agronomy and agriculture business. She is the daughter of David and Elizabeth J. Winchell of Hawesville, KY.
Farm Bureau scholarships, offered annually, are awarded to recipients who display the greatest levels of academic excellence, involvement in extracurricular activities, leadership abilities and financial need.
KFB Spotlight
January 19, 2022

The American Farm Bureau Federation will host the 2022 Young Farmers & Ranchers Leadership Conference in Louisville, Kentucky, Feb. 25-28, at the Omni Louisville Hotel.
December 15, 2021

The Kentucky Department of Agriculture (KDA) has created a resource page on its website for those affected by this weekend's disastrous weather events, Commissioner of Agriculture Dr. Ryan Quarles announced today.
December 10, 2021

As we gather together to be with friends and family during this holiday season, our Farm Bureau family is doing the same.