Hancock County students awarded Farm Bureau scholarships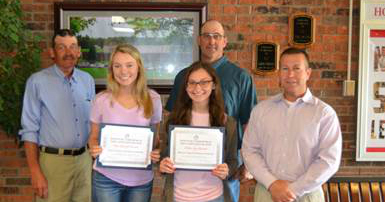 Louisville, KY (July 6, 2018) - – Hope Elizabeth Emmick and Shelby Lynn Winchell, both seniors at Hancock County High School, are the recipients of college scholarships from Hancock County Farm Bureau. In partnership with County Farm Bureaus, the Kentucky Farm Bureau Education Foundation awarded $465,400 this year to deserving students from across the Commonwealth.
Hope Elizabeth Emmick was awarded a $1,000 scholarship. After graduating from high school, Emmick plans to attend the University of Louisville to pursue a degree in nursing. She is the daughter of Shelby and Heather Emmick of Lewisport, KY.
Shelby Lynn Winchell also was awarded a $1,000 scholarship. After completing high school, Winchell will attend Western Kentucky University to earn degrees in agronomy and agriculture business. She is the daughter of David and Elizabeth J. Winchell of Hawesville, KY.
Farm Bureau scholarships, offered annually, are awarded to recipients who display the greatest levels of academic excellence, involvement in extracurricular activities, leadership abilities and financial need.
KFB Spotlight
November 25, 2020

Caleb and Leanne Ragland of LaRue County have been named Kentucky Farm Bureau's (KFB) "2020 Outstanding Young Farm Family". This annual award recognizes a couple or individual under the age of 35 that demonstrates strong farm management skills, KFB and community involvement, and consistent financial growth through their farm.
November 23, 2020

Ginny Lyle of Franklin County and Brady Lawson of Morgan County were awarded top honors in the Kentucky Farm Bureau 2020 Outstanding Farm Bureau Youth contest.
November 19, 2020

Thanksgiving celebrations will look different for many Americans this year due to the COVID-19 pandemic. Gatherings are likely to be fewer and farther between, with social distancing and perhaps even remote family get-togethers. One tradition that continues this year is the American Farm Bureau Federation's annual cost survey of classic items found on the Thanksgiving Day dinner table.