Project by Green County Student Featured in Kentucky Farm Bureau's "Science in Agriculture" Displays
Louisville, KY (November 30, 2017) – Green County student, Caton Clark, was among the 12 students selected from across the state to display their agriculture science projects at this week's Kentucky Farm Bureau (KFB) annual meeting in Louisville.
Caton displayed his science project as part of the KFB annual meeting tradeshow. His project, "How Does Temperature affect Egg Production?" explored the effects of temperature on egg production by chickens.
He was awarded $125 and a certificate of recognition for his participation at the state level.
The Science in Agriculture program was developed by KFB as a way to encourage teachers to incorporate agricultural themes into their classroom instruction. Projects are evaluated on categories such as creativity, skill, clarity and thoroughness, agricultural accuracy, and scientific thought.
Kentucky Farm Bureau, with over 478,000 member families statewide, is the state's largest general farm organization. Approximately 2,000 members attended KFB's 98th annual meeting in Louisville, November 29 – December 2, to recognize this year's individual and organizational achievements and adopt policy for 2018. To view all the updates released from this year's annual meeting, visit KYFBNewsroom.com.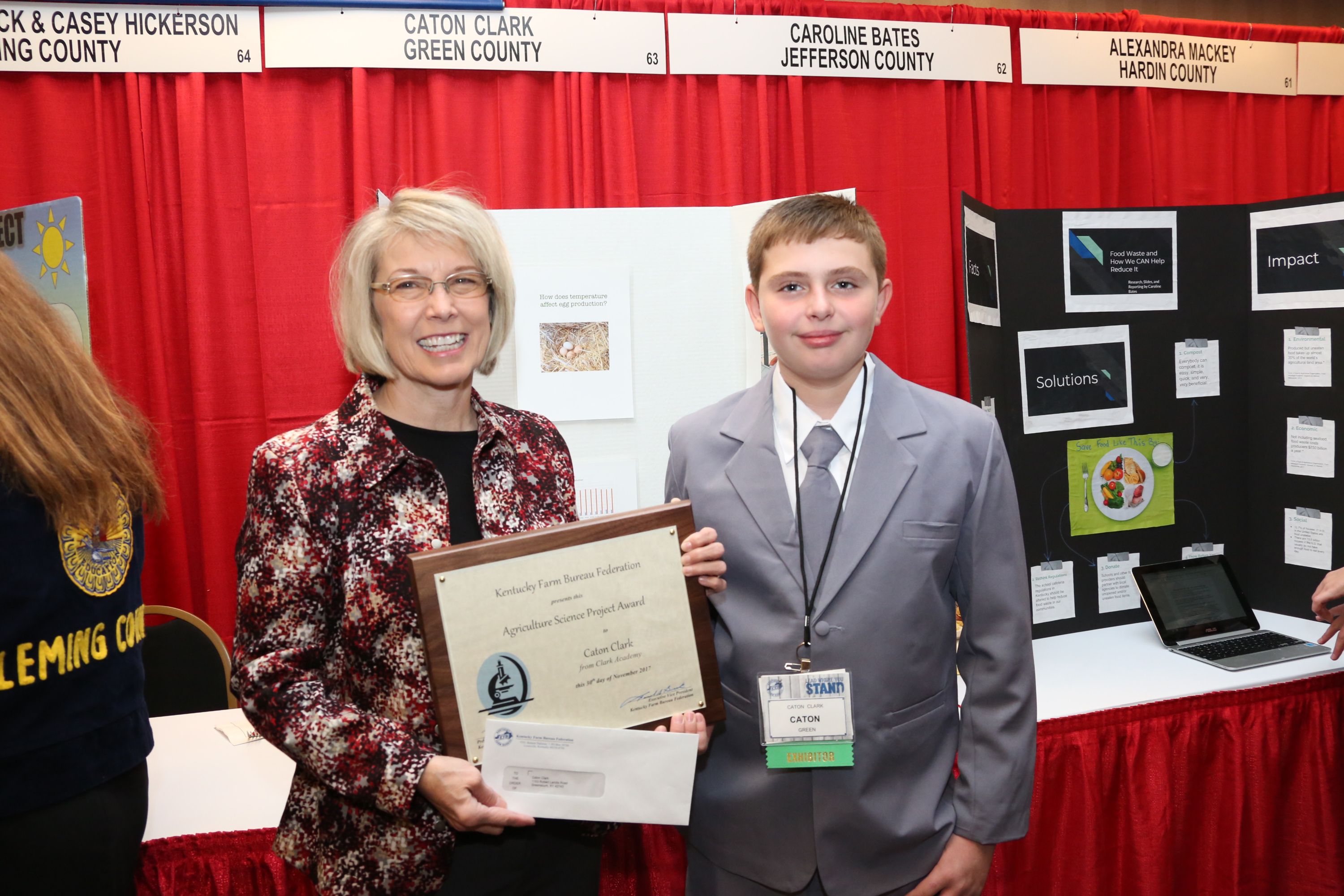 KFB Spotlight
June 24, 2021

One of the things I'm most proud of as president of Kentucky Farm Bureau (KFB) is being a part of the storied history of this organization which began more than 100 years ago.
June 23, 2021

Kentucky Farm Bureau Mutual Insurance Company was founded nearly eight decades ago, in 1943, to protect the assets of Kentuckians. From the start, our insurance services have been offered as a benefit to members of Kentucky Farm Bureau, ensuring that hardworking families across the Bluegrass State have access to the quality coverage they deserve.
June 23, 2021

A special edition of KFB Candid Conversation features a discussion with the folks from Oates Promotional Services, a long-time provider of all types of flags including American flags that have flown all over the world. KFB News recently visited their Louisville facility to talk to family members who are carrying on truly American tradition.