Food Check-Out Day 2020
On Friday, February 21st Floyd County Farm Bureau (FCFB) held its annual Food Check-Out Day at Food City in Prestonsburg. FCFB President Saul Akers, Vice President Billy Hicks, Women's Committee Chair Sherry Akers, Young Farmer Ccommittee Chair Chris Akers, Board member Charles Hackworth, Women's Committee Member Elmina Hackworth and Insurance Agent Manager Brian Pugh conducted the event. Tee shirts and 250 loaves of bread along with hats and other promotional items were given away to local customers. The day was very successful and enjoyed by everyone.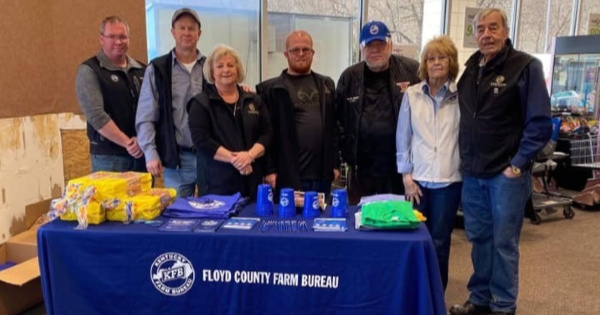 KFB Spotlight
January 19, 2022

The American Farm Bureau Federation will host the 2022 Young Farmers & Ranchers Leadership Conference in Louisville, Kentucky, Feb. 25-28, at the Omni Louisville Hotel.
December 15, 2021

The Kentucky Department of Agriculture (KDA) has created a resource page on its website for those affected by this weekend's disastrous weather events, Commissioner of Agriculture Dr. Ryan Quarles announced today.
December 10, 2021

As we gather together to be with friends and family during this holiday season, our Farm Bureau family is doing the same.