Project by Fleming County Student Featured in Kentucky Farm Bureau's "Science in Agriculture" Displays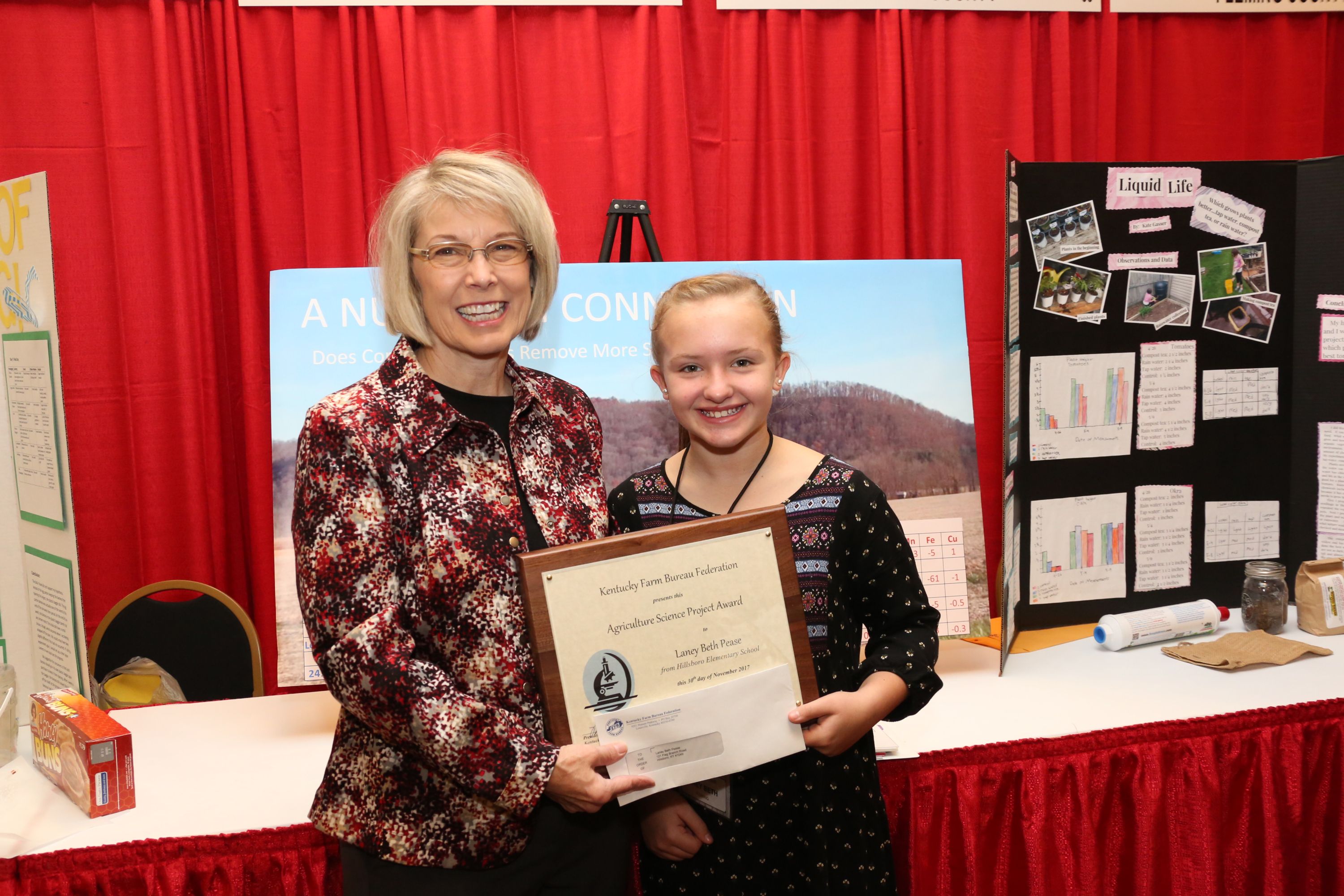 Louisville, KY (November 30, 2017) – Fleming County student, Laney Pease, was among the 12 students selected from across the state to display their agriculture science projects at this week's Kentucky Farm Bureau (KFB) annual meeting in Louisville.
Laney displayed her science project as part of the KFB annual meeting's tradeshow. Her project explored the effects of soil nutrition on plant growth.
She was awarded $125.00 and a certificate of recognition for her participation at the state level.
The Science in Agriculture program was developed by KFB as a way to encourage teachers to incorporate agricultural themes into their classroom instruction. Projects are evaluated on categories such as creativity, skill, clarity and thoroughness, agricultural accuracy, and scientific thought.
Kentucky Farm Bureau, with over 478,000 member families statewide, is the state's largest general farm organization. Approximately 2,000 members attended KFB's 98th annual meeting in Louisville, November 29 – December 2, to recognize this year's individual and organizational achievements and adopt policy for 2018. To view all the updates released from this year's annual meeting, visit KYFBNewsroom.com.
KFB Spotlight
May 6, 2022

On a colder than normal April afternoon, Morgan Askins is unloading her two quarter horses at the Shelby County Fairgrounds as she prepares to be the flag bearer for the weekend's Kentuckiana Ranch Horse Association (KRHA) event. She gets her horses settled and prepares for the next day's activities.
May 6, 2022

As another session of the Kentucky General Assembly has come to a close, it is time to reflect on the legislation that passed that benefits our farm families and rural communities. It's also a good time to look at bills that did not pass.
May 6, 2022

I will be the first to admit that through the years I have lost touch with friends, and even family, for one reason or another. Often was the case that we lived far apart from each other and losing touch just happened, I suppose.