Fayette County Farm Bureau Wins Third Place in County Information Awards Competition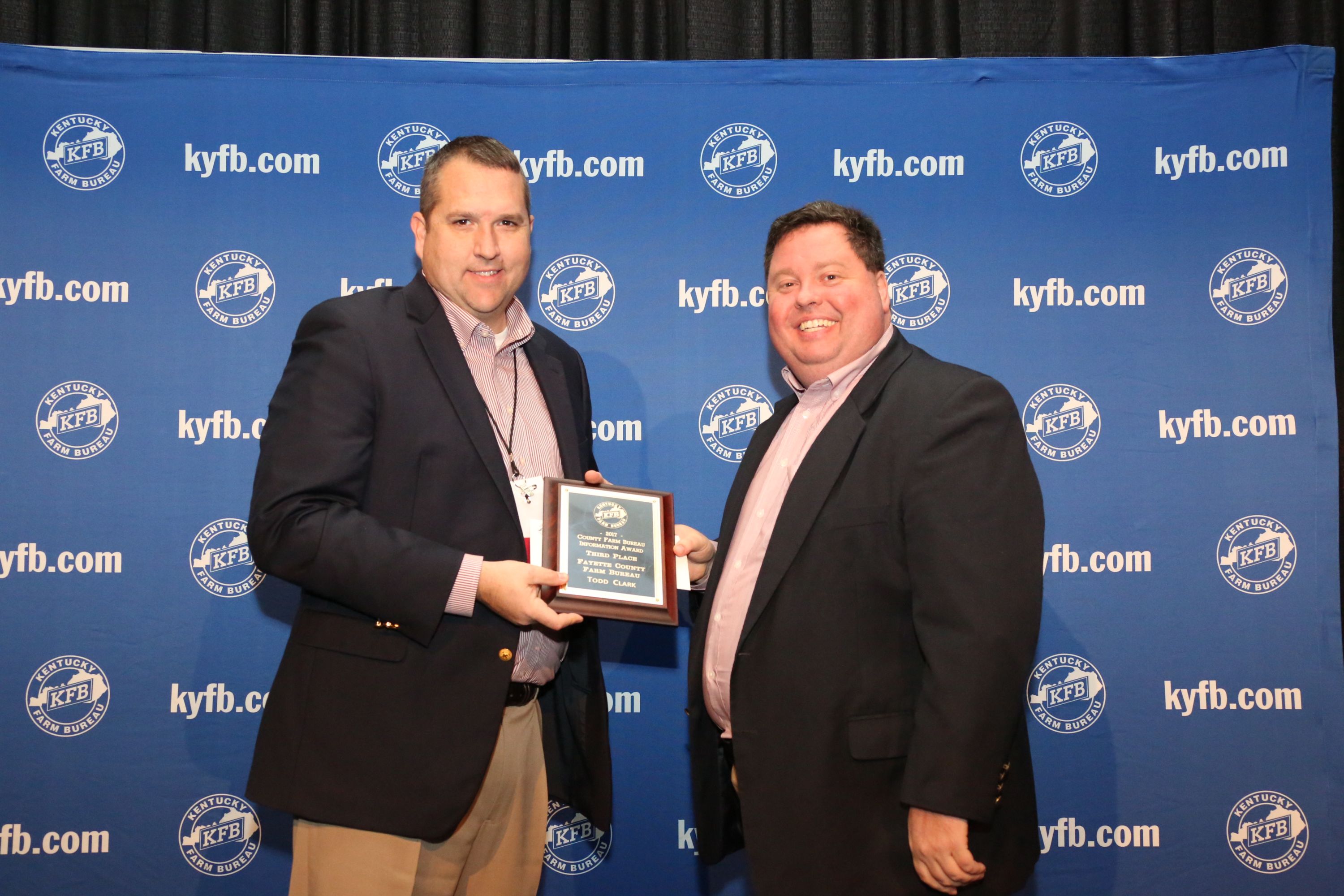 Louisville, KY (December 1, 2017) – Fayette County Farm Bureau was honored today for its third-place finish in the 2017 Kentucky Farm Bureau (KFB) County Information Awards competition. Sean Milliard, President, Fayette County Farm Bureau, attended an awards breakfast at the organization's annual meeting in Louisville and was presented with the plaque and cash award given for the variety of effective public relations programs coordinated over the last year.
Mercer County Farm Bureau and Daviess County Farm Bureau finished first and second, respectively.
The County Information Awards are presented annually to recognize the best programs for member information and media relations performed at the local level. Criteria for winning entries includes developing a plan for regular communication with the county's membership, securing news stories by local media outlets that emphasize issues important to both Farm Bureau and agriculture, hosting a media appreciation event, keeping website content updated, and promoting community relations programs.
Honorable mentions for the award were given to Farm Bureaus in Garrard and Harlan counties for their noteworthy accomplishments in media relations and member information.
KFB Spotlight
December 2, 2023

Webster County farmer Eddie Melton was elected as president of Kentucky Farm Bureau today. He has served on the organization's executive committee for the past fifteen years.
December 1, 2023

Jones and Felts were selected from 22 district finalists out of approximately 350 young people who competed in county and district contests over the past several months.
December 1, 2023

Gilles will represent Kentucky in the national competition at the 2024 American Farm Bureau Federation convention in January and will be vying for prizes, including $35,000 towards a new Ford truck.