Fayette County Farm Bureau Wins Third Place in County Information Awards Competition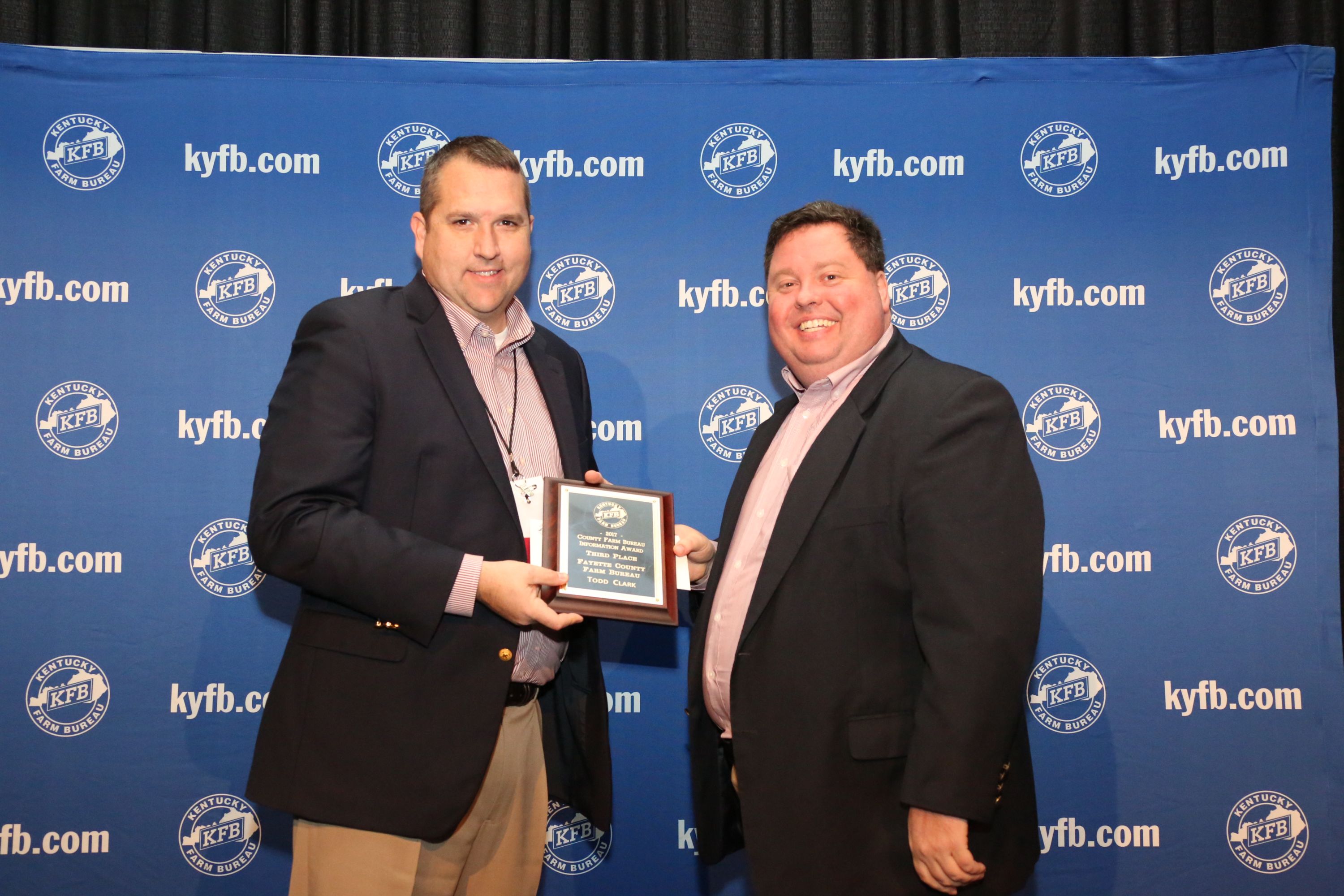 Louisville, KY (December 1, 2017) – Fayette County Farm Bureau was honored today for its third-place finish in the 2017 Kentucky Farm Bureau (KFB) County Information Awards competition. Sean Milliard, President, Fayette County Farm Bureau, attended an awards breakfast at the organization's annual meeting in Louisville and was presented with the plaque and cash award given for the variety of effective public relations programs coordinated over the last year.
Mercer County Farm Bureau and Daviess County Farm Bureau finished first and second, respectively.
The County Information Awards are presented annually to recognize the best programs for member information and media relations performed at the local level. Criteria for winning entries includes developing a plan for regular communication with the county's membership, securing news stories by local media outlets that emphasize issues important to both Farm Bureau and agriculture, hosting a media appreciation event, keeping website content updated, and promoting community relations programs.
Honorable mentions for the award were given to Farm Bureaus in Garrard and Harlan counties for their noteworthy accomplishments in media relations and member information.
KFB Spotlight
October 27, 2021

The American Farm Bureau Federation will present one of its highest honors, the Farm Bureau Founders Award, to Terry Gilbert, former chair of AFBF's Women's Leadership Committee, during the 2022 American Farm Bureau Convention, Jan. 7-12 in Atlanta, Georgia.
October 25, 2021

Organizations with a history of support are a staple of the agriculture industry. This staple has been present in Kentucky agriculture and present in my own development. The support of these organizations is far reaching and effective on an individual level, but in the form of partnerships a new level of impact is attained.
October 25, 2021

Wesley Parker of Christian County will be honored as the 2021 Kentucky Farm Bureau (KFB) "Farmer of the Year" during the organization's 102nd annual meeting at the Galt House in Louisville this December.