Fayette County Farm Bureau Wins Third Place in County Information Awards Competition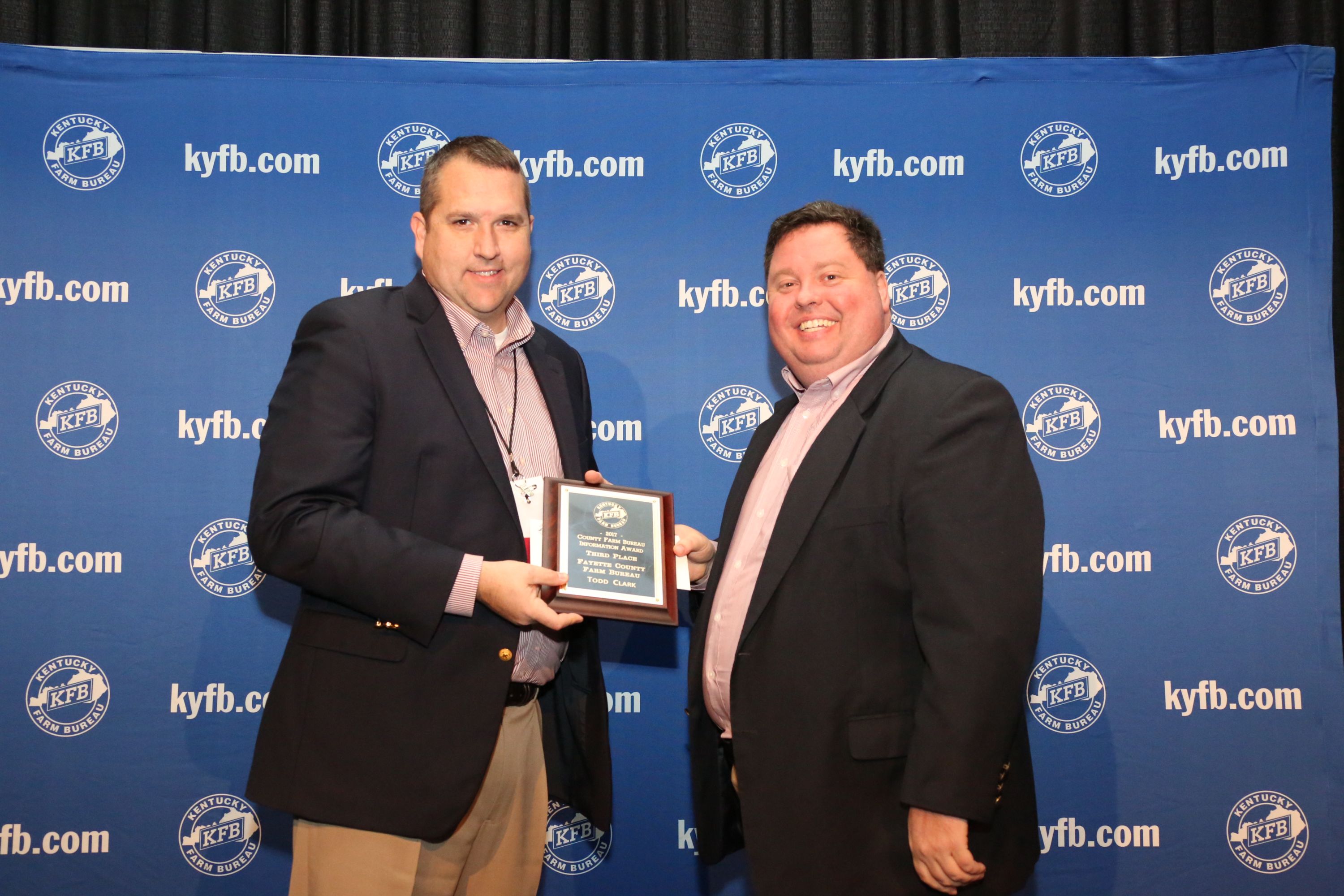 Louisville, KY (December 1, 2017) – Fayette County Farm Bureau was honored today for its third-place finish in the 2017 Kentucky Farm Bureau (KFB) County Information Awards competition. Sean Milliard, President, Fayette County Farm Bureau, attended an awards breakfast at the organization's annual meeting in Louisville and was presented with the plaque and cash award given for the variety of effective public relations programs coordinated over the last year.
Mercer County Farm Bureau and Daviess County Farm Bureau finished first and second, respectively.
The County Information Awards are presented annually to recognize the best programs for member information and media relations performed at the local level. Criteria for winning entries includes developing a plan for regular communication with the county's membership, securing news stories by local media outlets that emphasize issues important to both Farm Bureau and agriculture, hosting a media appreciation event, keeping website content updated, and promoting community relations programs.
Honorable mentions for the award were given to Farm Bureaus in Garrard and Harlan counties for their noteworthy accomplishments in media relations and member information.
KFB Spotlight
Stress on the Farm and in Rural America: Acknowledging its existence can be a good first step in combating this issue

June 25, 2019

As much as farm families love what they do, there is a tremendous amount of stress that can come along with any farming operation, big or small; in good economic times or financial downturns.
June 25, 2019

The Merriam-Webster dictionary defines the word "entrepreneur" as being, "one who organizes, manages, and assumes the risks of a business or enterprise." With that said, the likely image of an entrepreneur is not necessarily that of a teenager. However, Ben Williams and Taylor Cook did not get that memo. In fact, these two teens have been thinking about running a business of their own for quite some time.
May 17, 2019

In addition to being resourceful, hard-working and persistent, our nation's farmers have been very patient. We have endured continued drops in net farm income, a host of natural disasters, and some of the most volatile commodity markets experienced in decades.