Fayette County Farm Bureau Wins Third Place in County Information Awards Competition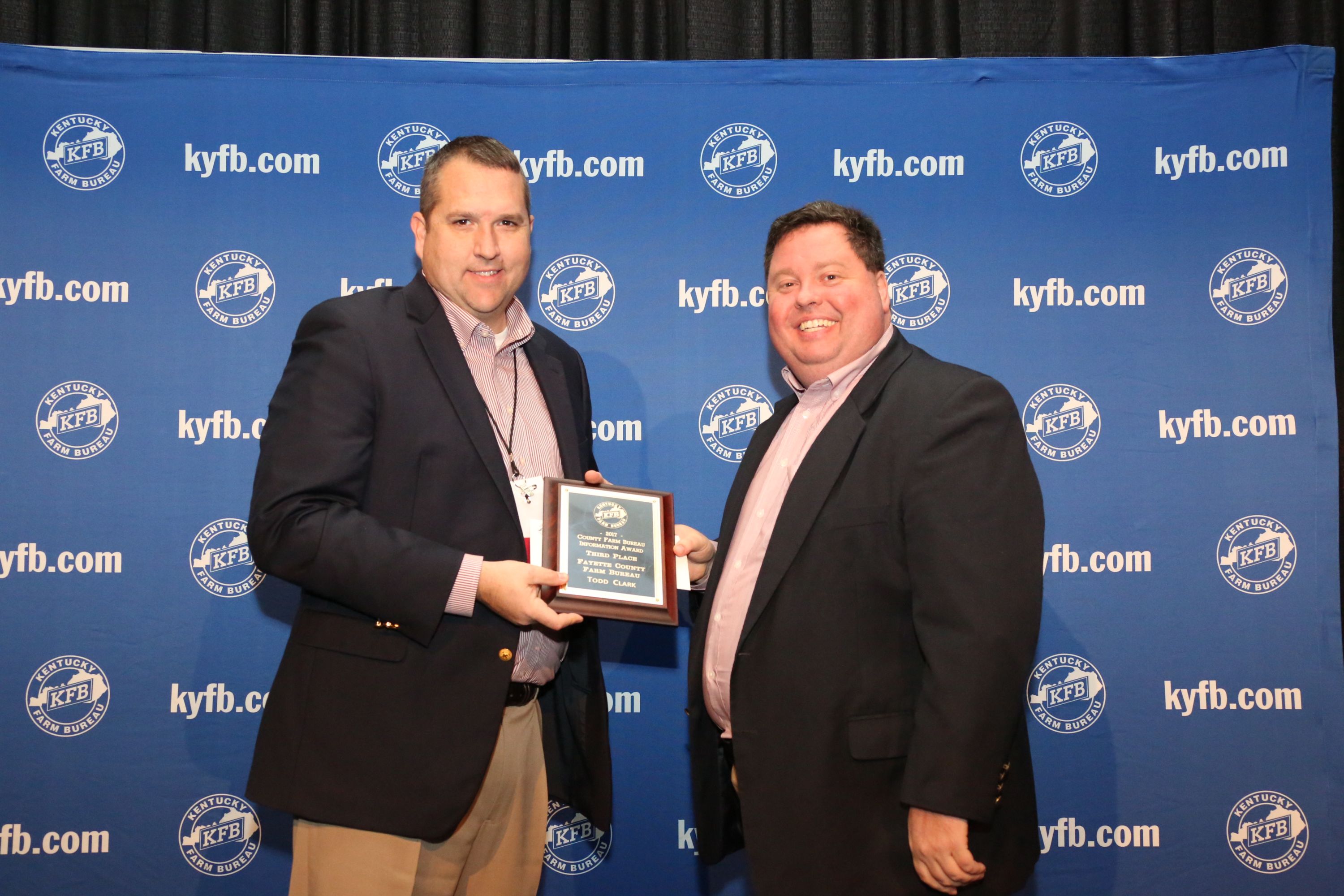 Louisville, KY (December 1, 2017) – Fayette County Farm Bureau was honored today for its third-place finish in the 2017 Kentucky Farm Bureau (KFB) County Information Awards competition. Sean Milliard, President, Fayette County Farm Bureau, attended an awards breakfast at the organization's annual meeting in Louisville and was presented with the plaque and cash award given for the variety of effective public relations programs coordinated over the last year.
Mercer County Farm Bureau and Daviess County Farm Bureau finished first and second, respectively.
The County Information Awards are presented annually to recognize the best programs for member information and media relations performed at the local level. Criteria for winning entries includes developing a plan for regular communication with the county's membership, securing news stories by local media outlets that emphasize issues important to both Farm Bureau and agriculture, hosting a media appreciation event, keeping website content updated, and promoting community relations programs.
Honorable mentions for the award were given to Farm Bureaus in Garrard and Harlan counties for their noteworthy accomplishments in media relations and member information.
KFB Spotlight
December 9, 2019

Kirby Green from Daviess County has won top honors in Kentucky Farm Bureau's (KFB) Excellence in Agriculture Awards program for 2019. She received the award during the organization's recent Annual Meeting at the Galt House in Louisville.
December 7, 2019

Pulaski County farmer Mark Haney was re-elected Kentucky Farm Bureau President on the concluding day of the organization's 100th annual meeting. Also re-elected were Webster County's Eddie Melton as First Vice-President and Sharon Furches of Calloway County as Second Vice-President.
December 7, 2019

Trisha Campbell of Logan County won first place in Kentucky Farm Bureau's (KFB) Discussion Meet, a debate-styled competition for young farmers.