Daviess County Farm Bureau Wins Second Place in County Information Awards Competition
Louisville, KY (December 1, 2017) – Daviess County Farm Bureau was honored today for its second-place finish in the 2017 Kentucky Farm Bureau (KFB) County Information Awards competition. Leigh Ann Kuegel, Information Chair of Daviess County Farm Bureau, attended an awards breakfast at the organization's annual meeting in Louisville and was presented with the plaque and cash award given for the variety of effective public relations programs she coordinated over the last year.
Mercer County Farm Bureau and Fayette County Farm Bureau finished first and third, respectively.
The County Information Awards are presented annually to recognize the best programs for member information and media relations performed at the local level. Criteria for winning entries includes developing a plan for regular communication with the county's membership, securing news stories by local media outlets that emphasize issues important to both Farm Bureau and agriculture, hosting a media appreciation event, keeping website content updated, and promoting community relations programs.
Honorable mentions for the award were given to Farm Bureaus in Garrard and Harlan counties for their noteworthy accomplishments in media relations and member information.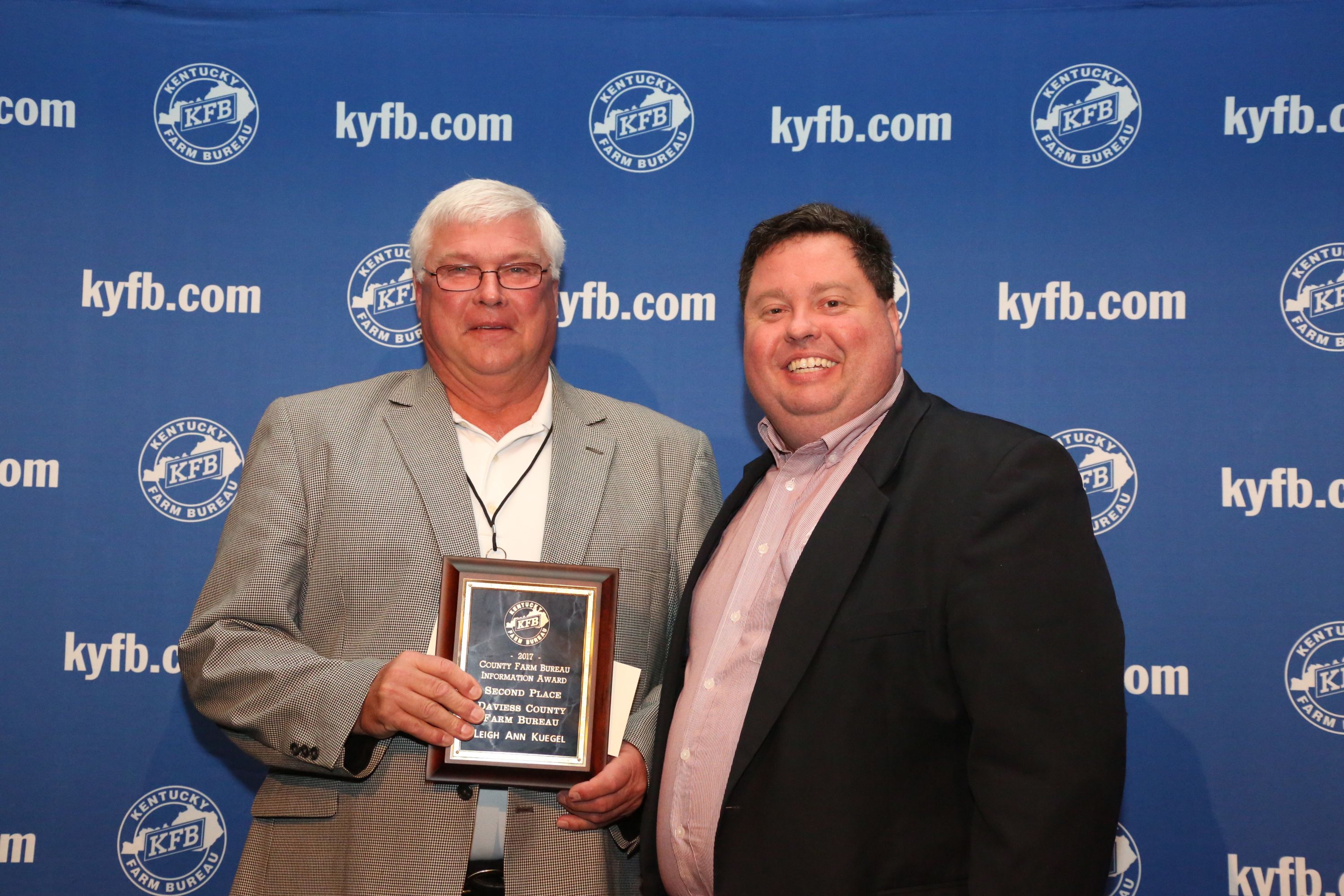 KFB Spotlight
April 6, 2021

Kentucky Farm Bureau was founded on the principle of grassroots advocacy, a methodology that has served the organization well for more than 100 years.
April 6, 2021

As we prepare for spring planting and another growing season on the farm, it goes without saying that most of us will be reflecting on the past year and the dark winter we have come through.
April 6, 2021

As the subject of climate change gathers momentum in Washington, D.C., Farm Bureau has been preparing for it over the last year. In February of 2020, the American Farm Bureau Federation (AFBF) became one of the founding members of the Food and Agriculture Climate Alliance (FACA) which is comprised of organizations representing farmers, ranchers, forest owners, the food sector, state governments and environmental advocates that are working together to define and promote shared climate policy priorities.