Caldwell County 2016 IFAL Participants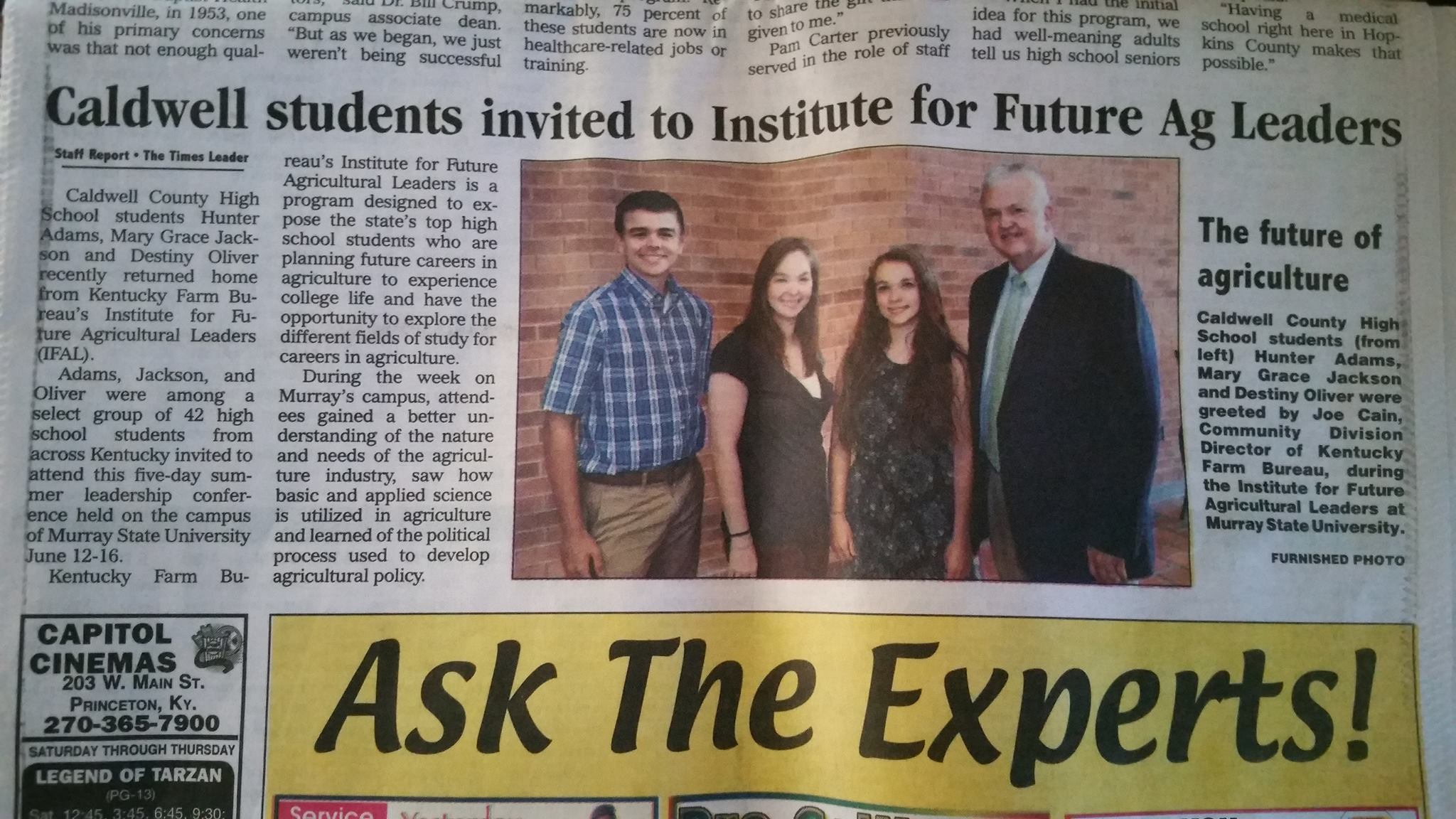 Caldwell County sent 4 students to IFAL (Institute for Future Ag Leaders) this year. Matthew McIntosh went to the University of Kentucky, while Hunter Adams, Destiny Oliver, and Mary Grace Jackson went to Murray State University. IFAL is a unique, five-day summer leadership conference that exposes students to college life and explores different fields of study for careers in agriculture. IFAL allows high school juniors to choose between separate conferences at two of Kentucky's premier universities. This year's IFAL conferences were held June 12-16, 2016, at Murray State University in Murray and June 19-23, 2016, at the University of Kentucky in Lexington.
The IFAL program helps students become more familiar with Farm Bureau, promote agricultural-related career choices, provide leadership development opportunities, and promote each participating university.
KFB Spotlight
October 25, 2021

Wesley Parker of Christian County will be honored as the 2021 Kentucky Farm Bureau (KFB) "Farmer of the Year" during the organization's 102nd annual meeting at the Galt House in Louisville this December.
October 22, 2021

While education has looked very different over the past year from its traditional classroom settings, the financial needs of students, especially those going on to higher education, has likely never been greater. Kentucky Farm Bureau (KFB) has recognized those needs for decades by establishing scholarship programs at the state and county levels.
October 22, 2021

Last month's September crop report from the USDA's National Agriculture Statistics Service, (NASS) Kentucky Field Office reported increased production levels for corn and tobacco over 2020, with a slight decrease in soybeans production. Regional Director David Knopf said unless there are any unforeseen circumstances, he doesn't see any big changes coming as the harvest season progresses.