Caldwell County 2016 Black Patch Festival
Agent James Boone and the Caldwell Co Farm Bureau board held a petting zoo at the local Black Patch Festival, where they took donations that would be given to the local FFA and 4-H. During that festival, local Farm Bureau member Niki Baker who won the non-commercial ham contest at the state fair and donated the ham to the Caldwell County Board to be sold; the proceeds were split between the Caldwell County FFA and 4-H. On October 31, 2016, Caldwell County Farm Board President Wendell Roberts presented the Caldwell County FFA with their half of the money raised from both events.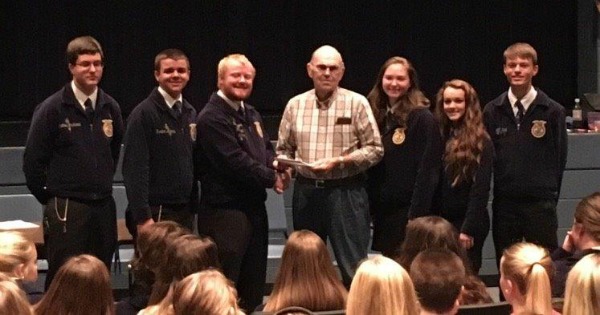 KFB Spotlight
November 25, 2020

Caleb and Leanne Ragland of LaRue County have been named Kentucky Farm Bureau's (KFB) "2020 Outstanding Young Farm Family". This annual award recognizes a couple or individual under the age of 35 that demonstrates strong farm management skills, KFB and community involvement, and consistent financial growth through their farm.
November 23, 2020

Ginny Lyle of Franklin County and Brady Lawson of Morgan County were awarded top honors in the Kentucky Farm Bureau 2020 Outstanding Farm Bureau Youth contest.
November 19, 2020

Thanksgiving celebrations will look different for many Americans this year due to the COVID-19 pandemic. Gatherings are likely to be fewer and farther between, with social distancing and perhaps even remote family get-togethers. One tradition that continues this year is the American Farm Bureau Federation's annual cost survey of classic items found on the Thanksgiving Day dinner table.