Caldwell County 2016 Black Patch Festival
Agent James Boone and the Caldwell Co Farm Bureau board held a petting zoo at the local Black Patch Festival, where they took donations that would be given to the local FFA and 4-H. During that festival, local Farm Bureau member Niki Baker who won the non-commercial ham contest at the state fair and donated the ham to the Caldwell County Board to be sold; the proceeds were split between the Caldwell County FFA and 4-H. On October 31, 2016, Caldwell County Farm Board President Wendell Roberts presented the Caldwell County FFA with their half of the money raised from both events.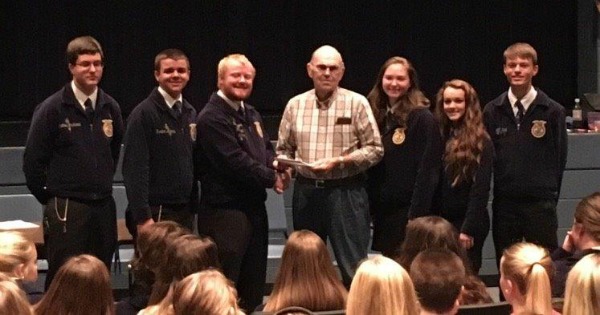 KFB Spotlight
September 12, 2019

Repeal of the 2015 Waters of the United States rule is a victory for clean water and clear rules. As farmers, we share the goal of protecting the nation's water, but the 2015 Waters of the United States rule was unreasonable and unworkable. It made conservation more difficult and created huge liabilities for farmers.
September 12, 2019

Agriculture Commissioner Ryan Quarles has proclaimed the week of Sept. 15-21 as Farm Safety and Health Week in Kentucky to encourage farmers and farm workers to put safety first at all times.
September 10, 2019

My youngest son recently moved back to college with the help of good ole mom and dad who graciously allowed him to try apartment living for the first time instead of a dorm. After getting everything into place, his first request (actually it was a complaint) was to help him get logged on to the supplied WIFI.