Caldwell County 2016 Black Patch Festival
Agent James Boone and the Caldwell Co Farm Bureau board held a petting zoo at the local Black Patch Festival, where they took donations that would be given to the local FFA and 4-H. During that festival, local Farm Bureau member Niki Baker who won the non-commercial ham contest at the state fair and donated the ham to the Caldwell County Board to be sold; the proceeds were split between the Caldwell County FFA and 4-H. On October 31, 2016, Caldwell County Farm Board President Wendell Roberts presented the Caldwell County FFA with their half of the money raised from both events.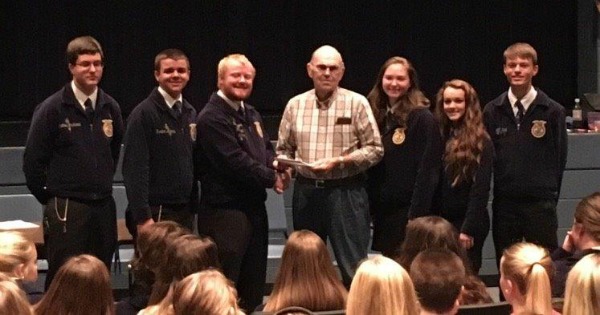 KFB Spotlight
Zach Heibert of Hardin County Named 2022 Kentucky Farm Bureau Excellence in Agriculture Award Recipient

September 29, 2022

Kentucky Farm Bureau (KFB) announced today that Zach Heibert of Hardin County is the 2022 KFB Excellence in Agriculture award recipient.
August 25, 2022

The 58th Kentucky Farm Bureau (KFB) Country Ham Breakfast brought in an impressive $5 million for charity organizations.
August 12, 2022

Anyone who has ever planted that first seed of a crop knows, as dedicated farm families, we are always at the mercy of Mother Nature.