Caldwell County 2016 Black Patch Festival
Agent James Boone and the Caldwell Co Farm Bureau board held a petting zoo at the local Black Patch Festival, where they took donations that would be given to the local FFA and 4-H. During that festival, local Farm Bureau member Niki Baker who won the non-commercial ham contest at the state fair and donated the ham to the Caldwell County Board to be sold; the proceeds were split between the Caldwell County FFA and 4-H. On October 31, 2016, Caldwell County Farm Board President Wendell Roberts presented the Caldwell County FFA with their half of the money raised from both events.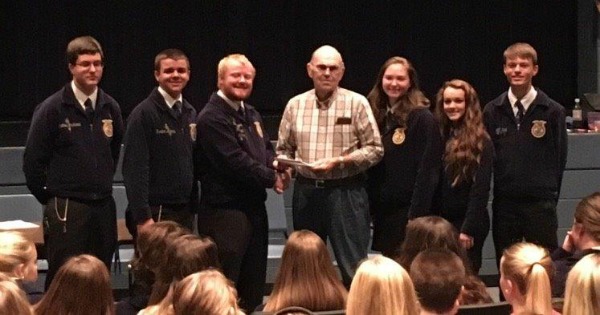 KFB Spotlight
May 17, 2019

In addition to being resourceful, hard-working and persistent, our nation's farmers have been very patient. We have endured continued drops in net farm income, a host of natural disasters, and some of the most volatile commodity markets experienced in decades.
May 9, 2019

I'm not sure if this is an age thing or not, but it seems to me that the older I get the more I reflect on the past, taking in all the moments and memories that have guided me to where I am today as a person, a husband, a father, a soon-to-be grandfather, and a communicator.
May 9, 2019

When thinking of Kentucky agriculture, many crops could come to mind including corn, soybeans, wheat, and tobacco, to name a few. But timber may not often be thought of as a crop.