Project by Barren County Student Anna Alexander Featured in Kentucky Farm Bureau's "Science in Agriculture" Displays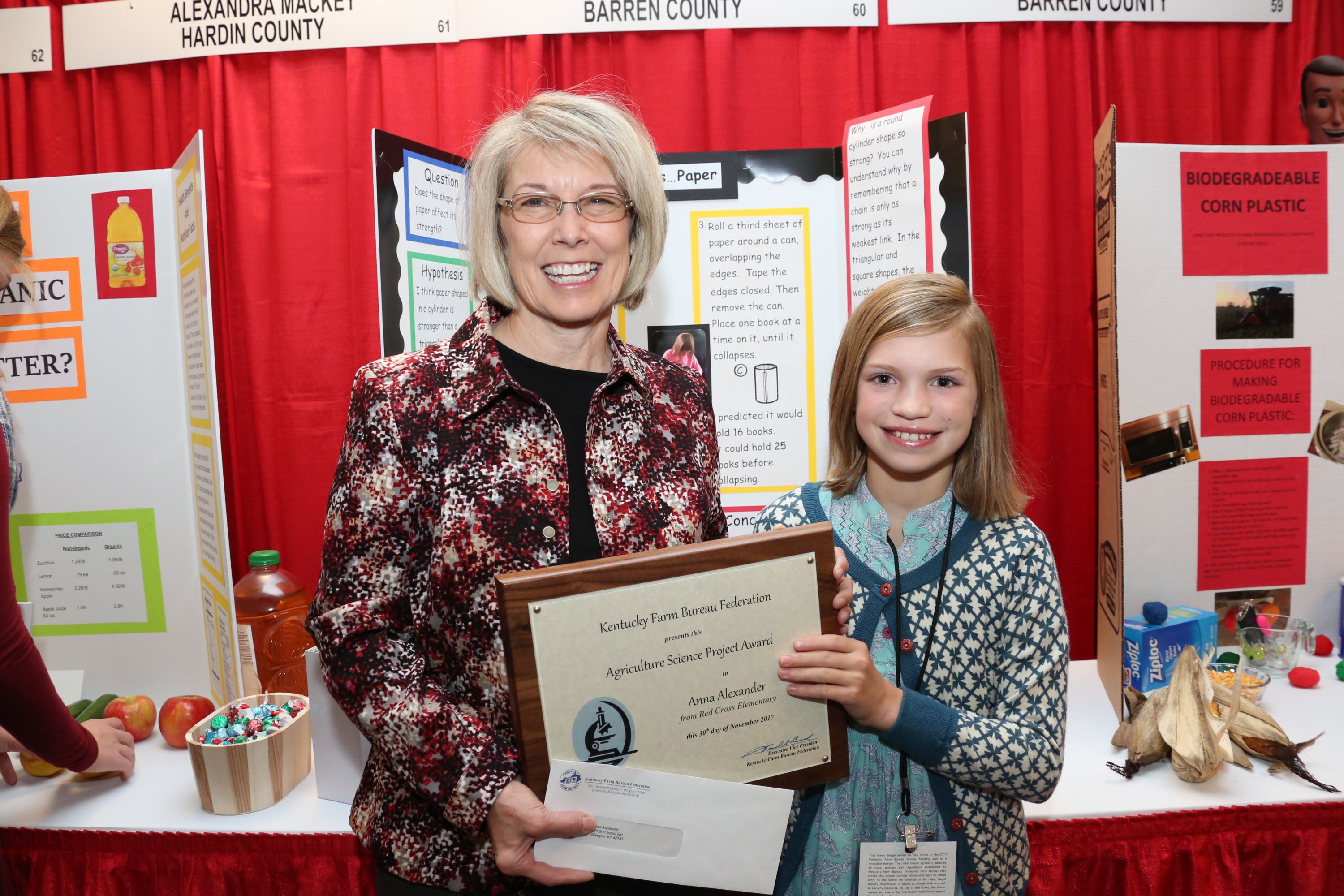 Louisville, KY (November 30, 2017) – Barren County student, Anna Alexander, was among the 12 students selected from across the state to display their agriculture science projects at this week's Kentucky Farm Bureau (KFB) annual meeting in Louisville.
Anna displayed her science project as part of the KFB annual meeting tradeshow. Her project, "How Sweet It Is," listed chemical detectors to measure the sugar content of certain foods.
She was awarded $125.00 and a certificate of recognition for her participation at the state level.
The Science in Agriculture program was developed by KFB as a way to encourage teachers to incorporate agricultural themes into their classroom instruction. Projects are evaluated on categories such as creativity, skill, clarity and thoroughness, agricultural accuracy and scientific thought.
Kentucky Farm Bureau, with over 478,000 member families statewide, is the state's largest general farm organization. Approximately 2,000 members attended KFB's 98th annual meeting in Louisville, November 29 – December 2, to recognize this year's individual and organizational achievements and adopt policy for 2018. To view all the updates released from this year's annual meeting, visit KYFBNewsroom.com.
KFB Spotlight
November 19, 2018

There is something that can be said about tradition when it comes to farming. Danny Cunningham, the 2018 Kentucky Farm Bureau Farmer of the Year knows all about that kind of tradition. He lives about a half a mile from where he was born and raised, in the small Calloway County community of Penny. There he began his farming experience that continues today.
November 15, 2018

The American Farm Bureau Federation's 33rd annual survey of classic items found on the Thanksgiving Day dinner table indicates the average cost of this year's feast for 10 is $48.90, or less than $5.00 per person. This is a 22-cent decrease from last year's average of $49.12.

"Since 2015, the average cost of Thanksgiving dinner has declined steadily and is now at the lowest level since 2010," said AFBF Chief Economist Dr. John Newton.
November 7, 2018

Three finalists have been named for the 2018 Kentucky Farm Bureau OYFF honor, in recognition of their achievements as part of the farming community. The finalists are Nicholas and Bethany Hardesty of Meade County, Wesley and Alicia Logsdon of Pulaski County, and Drew and Liz White of Union County. The winner will be announced at the Kentucky Farm Bureau Annual Meeting at the end of November.