In Memory of Ralston Bewley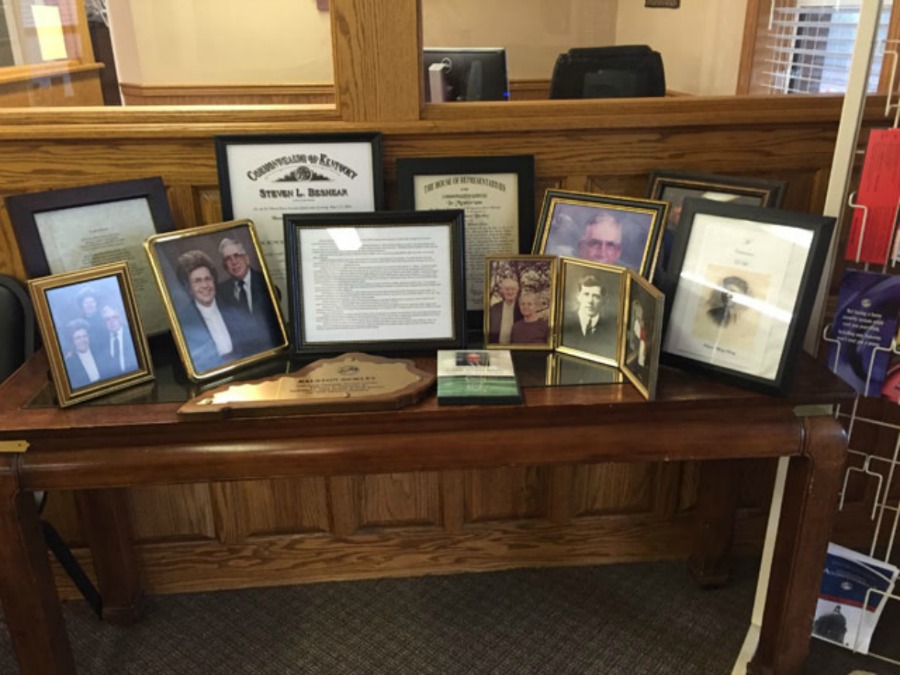 A memorial table has been set up in memory and honor of the late Ralston Bewley who served Allen County Farm Bureau board of directors for 19 years. Thanks to the generosity of his family, his legacy will continue to serve. Mr. Bewley, a World War II veteran, passed away on January 17, 2014; his wife, Eunice, passed away March 28, 2015. During the Allen County Farm Bureau Legislative Appreciation dinner held in late June, their daughter, Diane Bewley Fisher, donated the remaining $8,325.11 of her late mother's estate to be used for scholarships. Mrs. Fisher also donated several photos and other memorabilia to the local Farm Bureau office that you see pictured here.
KFB Spotlight
June 23, 2021

Kentucky Farm Bureau Mutual Insurance Company was founded nearly eight decades ago, in 1943, to protect the assets of Kentuckians. From the start, our insurance services have been offered as a benefit to members of Kentucky Farm Bureau, ensuring that hardworking families across the Bluegrass State have access to the quality coverage they deserve.
June 23, 2021

A special edition of KFB Candid Conversation features a discussion with the folks from Oates Promotional Services, a long-time provider of all types of flags including American flags that have flown all over the world. KFB News recently visited their Louisville facility to talk to family members who are carrying on truly American tradition.
June 23, 2021

COVID-19 caused many hardships and continues to be a concern, but as cases drop and vaccines make their way to more people, a re-opening of sorts is taking place throughout the state and much of the nation. And nowhere is it more welcome than in rural communities.