Randi Vickery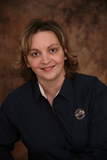 Though she's the newest member of the Union County team, Randi has more than 10 years of experience in the insurance industry. Her in-depth knowledge of the industry makes her a valuable addition to the best customer service team in Union County. Randi enjoys making new friends and delivering an unequaled level of service.

Outside of work, Randi enjoys spending time with her family, reading and shopping.
Life's Blueprints: A KFB Insurance Blog
Have you ever wondered what to do with dead batteries, broken electronics, and burnt out light bulbs? Read on to find out which common household items often wrongfully end up the trash – and what you should do with them instead.
Fans don't let fans drink and drive! Help keep Kentucky's roadways safe on game day.
It's tempting to crank up that space heater for some extra bedroom warmth or to de-ice your cold toes at the office, but take these precautions before turning that dial to the maximum setting.