Car Insurance from Kentucky Farm Bureau Insurance delivers Peace of Mind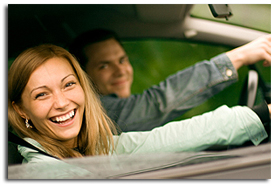 Peace of Mind
There are enough uncertainties on the road without having to worry whether your auto coverage is adequate for your needs.
Contact your local Kentucky Farm Bureau Insurance agent for more details about policy coverages and availability. No matter where you live in Kentucky, there's a local agent near you.
Cross-Country Coverage
Also, your Kentucky Farm Bureau auto coverage is in effect no matter where you drive within the borders of the United States and Canada or Puerto Rico. It's like a security blanket protecting you with quality coverage, so relax and enjoy your trip.
Fast Claim Service
We have adjusters throughout Kentucky so when you call for help, you can expect your claim to be handled quickly and efficiently.
Representations contained in this web page are for illustration purposes only. Coverage availability is subject to eligibility and other qualifications. Please consult your policy for actual contract coverage and exclusions. AD-2 (03/11)