Don't Let Her Age Fool You! Fifth Grade Student Addison Arnett demonstrates veteran show skills at Championship Drive
Posted on Nov 7, 2019


For anyone who has ever shown livestock, they understand how much work goes into caring for and working with their animals. It's early mornings and late nights and numerous county fairs, all in route to the big one; the state fair, and a chance at being a champion.

Addison Arnett knows well the rigorous routine that goes into being the best. This talented fifth grader from Montgomery County took top honors with her crossbred steer named Gus at this year's Championship Drive.

And although she was participating in her first Championship Drive event, being in the showring is second nature to her as she carries on a family tradition. Many members of her family have shown livestock including her parents, Rebecca and Chris. She began to continue that tradition by showing pigs at the age of three with the steers coming along by age nine.

"My parents have encouraged me a lot and helped me and corrected me when I did something wrong. That's how I've learned," she said.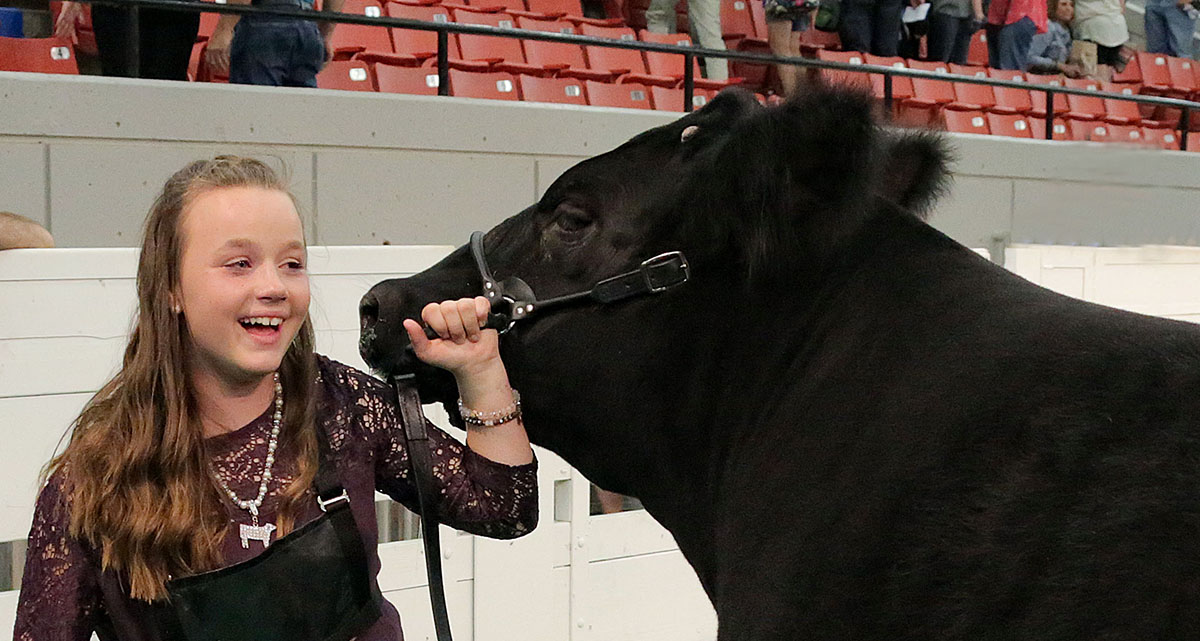 Addison obviously quickly became familiar with the showring and is a veteran of the state fair already, beginning her stint there at the age of four, having been named Grand Champion in Novice Swine Showmanship by the time she was eight.
With all that experience behind her, it was only natural that she would make it to the Championship Drive, the pinnacle of livestock showing at the Kentucky State Fair. But winning at that level was not something she expected this first time out.
"I really didn't think I would win that night because there were a lot of competitive steers out there," she said. "As soon as I walked in that arena, I started getting nervous."
Addison gave much of the credit for the win to Gus who, she said, loves the spotlight.
"Of course, he loved it and was well-behaved, but I was so nervous. I had been in the spotlight before, but it was nothing like this," she said.
In spite of the nerves, and the fact she was leading around an animal that weighed in at 1375 pounds, the two took home top honors in their division.
"It's not easy to lead around a steer that big but Gus was good, and we had a really good bond," said Addison. "Every morning we'd get up early and work together even before school."
But this youngster doesn't keep all her show techniques to herself. She is involved in a farm club at school and recently brought a steer to a club meeting to demonstrate how she shows such large animals. She is also involved in her 4-H club, and has been since turning nine years old. In fact, she currently serves as vice president of her 4-H club.
Addison said she has a lot of fun working with the animals and tells her friends that having fun is the most important part of showing livestock. But beyond the fun, she connects with her animals in such a way that she also refers to them as friends.
"I love doing this and when I grow up, get married, and have children of my own, I want to teach them to show livestock," she said. "Our whole Arnett family has done it and it makes me feel good knowing I have family willing to help me and support me."
Addison's next stop is the North American International Livestock Exposition where she will make her show debut there with a steer named Hershey.