Tish Thompson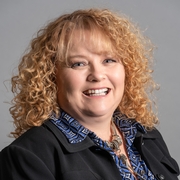 Tish previously worked at the Hebron Animal Hospital for 14 years. Prior to that, she was a nurse. Tish began working at the Kentucky Farm Bureau Insurance - Burlington/Hebron Agency on April 25, 2018. She is now licensed in Property and Casualty.
Tish and her husband, Tommy, live in Burlington. They have three adult children and two dogs—a Catahoula and an Australian Shepherd.
Tish has lived in Boone County for over 50 years. She enjoys many outdoor activities, traveling, and playing with her two dogs. Tish and her husband love volunteering with the Tri State Honor Flight, and Tommy's bagpiping skills have taken them on many adventures in giving back to the community.
As a lifelong Boone County resident, Tish often greets customers as friends, family, and neighbors that she has known for many years.
Life's Blueprints: A KFB Insurance Blog
Embracing smart home technology can seem incredibly daunting at first, but through simple, app-based controls, professional installation services, and affordable price points, anyone can make their home a little more intelligent.
Have you ever wondered what to do with dead batteries, broken electronics, and burnt-out light bulbs? Read on to find out which common household items often wrongfully end up in the trash – and what you should do with them instead.
Kentucky is one of 16 states at the highest risk for earthquakes, according to the United States Geological Survey.