Tish Thompson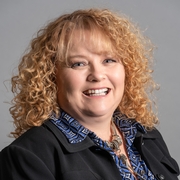 Tish previously worked at the Hebron Animal Hospital for 14 years. Prior to that, she was a nurse. Tish began working at the Kentucky Farm Bureau Insurance - Burlington/Hebron Agency on April 25, 2018. She is now licensed in Property and Casualty.
Tish and her husband, Tommy, live in Burlington. They have three adult children and two dogs—a Catahoula and an Australian Shepherd.
Tish has lived in Boone County for over 50 years. She enjoys many outdoor activities, traveling, and playing with her two dogs. Tish and her husband love volunteering with the Tri State Honor Flight, and Tommy's bagpiping skills have taken them on many adventures in giving back to the community.
As a lifelong Boone County resident, Tish often greets customers as friends, family, and neighbors that she has known for many years.
Life's Blueprints: A KFB Insurance Blog
Children are 70 times more likely to get to school safely while on the school bus as opposed to riding in a car.
Parents and caregivers have the ability to make lifesaving differences when buckling young ones in for a trip.
Do you know who would be financially responsible for your belongings if your apartment caught on fire or was broken into? If you think that your landlord is on the hook for your stuff in the event of a catastrophe — think again.