Bell County students awarded Farm Bureau scholarships
Louisville, KY (July 6, 2018) – Twenty-two Bell County high school seniors received college scholarships from Bell County Farm Bureau. In partnership with County Farm Bureaus, the Kentucky Farm Bureau Education Foundation awarded $465,400 this year to deserving students from across the Commonwealth.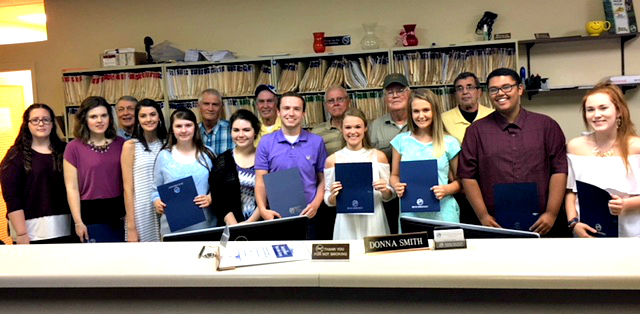 Bell County Farm Bureau awarded a $1,000 college scholarship to each of the following students: Solomon Andres (Middlesboro), Charity Asher (Arjay), Benjamin Bowling (Middlesboro), Ashley Bray (Frakes), Alexis Brock (Stoney Fork), Kennessa Burke (Middlesboro), Allyson Carey (Middlesboro), Cierra Coots (Middlesboro), Taylor Daniels (Middlesboro), Brooklyn Foister (Middlesboro), Izabella Fuson (Pineville), Taylor Fuson (Pineville), Virginia Gambrel (Pineville), Jordyn Hensley (Middlesboro), Rachel Hensley (Middlesboro), Alyssa Hillman (Stoney Fork), Anna Howard (Pineville), Sydney Lay (Middlesboro), Taylor McClelland (Middlesboro), Katie Thacker (Frakes), Hannah Turner (Frakes) and Hannah Warren (Middlesboro).
Farm Bureau scholarships, offered annually, are awarded to recipients who display the greatest levels of academic excellence, involvement in extracurricular activities, leadership abilities and financial need.
KFB Spotlight
January 20, 2021

Kentucky Farm Bureau (KFB) has released the names of individuals elected to lead its new initiative, Generation Bridge. Amanda Gajdzik of Shelby County has been elected chair, Tammy White of Union County is vice chair, and Sarah Beth Guffey from Clinton County is secretary of this newly formed committee.
January 18, 2021

Agriculture Commissioner Dr. Ryan Quarles invites Kentucky's youth to participate in the Kentucky Pollinator Stakeholders Art Contest. The contest is designed to educate the public on the benefits of pollinators and encourage behaviors that promote pollinator habitats across Kentucky.
January 13, 2021

Caleb and Leanne Ragland of LaRue County won a top honor during the American Farm Bureau Federation (AFBF) virtual convention today, being named winners of the Young Farmers & Ranchers "Achievement Award."